News story
Powering radio with chip fat and bicycles
Edward Davey visits Radio 5 Live's Energy Day to see renewable energy powering the station's programmes.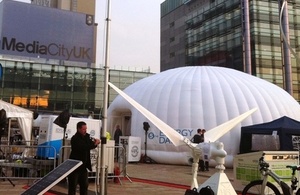 BBC Radio 5 Live proved how effective renewable energy could be as it held an Energy Day in Salford, powering its whole studio for 12 hours with renewables including people-generated pedal-power.
Edward Davey visited the Salford Media City to take part Radio 5's Live audience discussion "Your call" and Nicky Campbell's breakfast show on the UKs future energy mix and simplifying energy bills.
The day's programme includes:
an outside studio powered purely on renewable energy;

Richard Bacon's show powered solely by exercise bikes ridden by guests including Olympian Chris Boardman, and

a consumer energy special in which Britain's leading energy companies discuss energy prices and bills.
Other interactive energy-harnessing experiments taking place on the Media Plaza include the re-use of chip fat from the BBC canteen, wind turbines and kinetic energy from a human hamster wheel.
'Energy Day' happens one day ahead of DECC taking the British Energy Challenge Roadshow debate to Manchester. The debate will host Chief Scientific Advisor David MacKay, who will join the local panel and audience to discuss the energy mix that Manchester would like to see the UK adopt, in order to reduce emissions and keep the lights on.
Published 5 September 2013