News story
Introducing the British Energy Challenge roadshows
The first British Energy Challenge roadshow took place in Liverpool last week, with a 100+ attendees from the local community.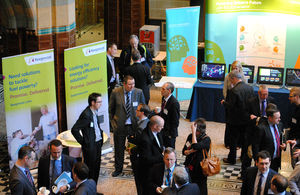 The inaugural British Energy Challenge (BEC) roadshow took place at Liverpool's Victoria Gallery & Museum on Thursday 18 April, jointly hosted by DECC and the Liverpool City Region Local Enterprise Partnership (LEP).
The roadshows, which will be touring the country throughout the summer and autumn, set out the major energy challenges we face today – how the UK is going to power itself whilst moving to secure, low carbon energy and how these challenges affect our day-to-day lives.
Included in the 119 attendees were representatives from community regeneration leaders, Keepmoat, the Campaign to Protect Rural England, Liverpool City Council, Liverpool John Moores University and a number of renewable energy enterprises.
Mark Basnett, Executive Director of KEY Growth Sector for the Local Energy Partnersip (LEP), began the proceedings, expressing the importance of engaging the local community and the economic benefits of the low carbon economy. Mark was followed by Amanda Lyne, Low Carbon Economy Chair for the City Region and then Professor Werner Hofer, from the Stephenson Institute for Renewable Energy.
Then followed the main event of the afternoon - a demonstration of DECC's 2050 Pathways Calculator, hosted by climate change campaigner and author, Mark Lynas, and DECC strategist, Tom Counsell.
The 2050 calculator, an interactive tool designed by DECC's Chief Scientific Advisor, David MacKay, demonstrates the different pathways which could be taken to tackle the energy challenge. The calculator brings to life the interaction between supply, demand and emissions and enables the user to choose what energy trade-offs to make, specific to personal preferences and the needs of their local economy, in order to meet the 80% reduction in greenhouse gas emissions by 2050.
As the audience in Liverpool selected their energy pathway, the issues discussed included the local car manufacturing industry, off-shore wind farms in the Irish sea, home insulation and the electrification of heating and cooking.
The scope of the energy challenge began to unfold as the pathway became tailored to suit the audience and it became clear that the debate it instigated and the issues it raised, could have been discussed far beyond the time available. The BEC roadshows present a valuable opportunity for leaders in key sectors and communities to engage with the issues of energy security and to highlight the challenge which faces us.
If you are interested in attending one of our upcoming British Energy Challenge roadshows, please email britishenergychallenge@decc.gsi.gov.uk. Details of the events are listed below.
| Location | Date |
| --- | --- |
| Nottingham | 17 May |
| The Hay Festival, Hay-on-Wye | 30 May |
| Sheffield | 20 June |
| Leeds | 28 June |
| Birmingham | 11 July |
| Manchester | 6 September |
| Newcastle | 20 September |
| Bristol | October (date TBC) |
View the pictures from the event on DECC's Flickr channel Download the The British Energy Challenge ezine
Published 23 April 2013