Press release
Power to councils to protect park home residents' rights
Councils are to get new powers to protect park home residents from rogue site owners in their area.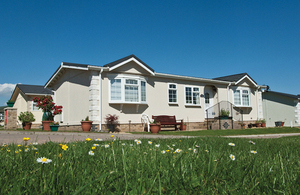 Housing Minister Kris Hopkins said that with around 2,000 park home sites in England, it's only right that councils are able to act to protect their local residents. From 1 April 2014, councils will have new powers to take action against owners who fail to maintain or manage their sites.
These new powers are the first changes to laws relating to park home site licensing for half a century, and will mean early action can be taken to ensure residents can get a fair deal.
Housing Minister Kris Hopkins said:
Laws relating to park home site licensing have left residents vulnerable to the whims of their site owners, with few protections on offer or levers to get work done. But from April, this will change.

From then councils will have the powers to take action requiring poor site conditions or inadequate services to be addressed by site owners. Those owners who comply with their licensing obligations, providing a high quality service to the residents will be able to carry on their business unaffected by these new enforcement powers.

But where unscrupulous site owners refuse to clean up their act, they will face court action and substantial fines for their poor performance.
A fair deal for park home residents
Under the changes coming into force in April, councils will be able to take enforcement action where owners are found to offer poor conditions.
The new rules will also mean that where an emergency situation arises and the park owner is unavailable to take immediate action, the council can step in – for example, if a power cable is hung dangerously low or the supply of gas to the site has become disconnected.
Previously, councils had little powers to step in and normally could only prosecute through the courts. But now, councils will be able to give park owners a chance to put things right by serving a notice outlining the action that needs to be taken, by a given deadline.
Where park owners fail to act on a notice, the council can then take them to a magistrates' court, where they could face a substantial fine. But site owners will be prevented from passing the costs of this enforcement action onto their residents.
A fair deal for taxpayers
But Mr Hopkins also made clear that the costs of enforcing a fair deal for park home residents should not fall unfairly on council taxpayers.
He also published guidance setting the terms under which councils can charge for the licences they provide site owners. In particular, fees can only be used to recover the costs of licencing park home sites – such as visits by inspectors, or the costs of processing applications.
But councils will not be able to make a profit from these fees – and may choose not to charge fees at all. Any fees set should be consistent with other charges the council imposes, and councils could choose to make certain exemptions, for example, for smaller sites.
But the minister was clear that where fees are charged, site owners and residents have a right to expect a licensing service above and beyond that which they currently receive for free.
Further information
The Mobile Homes Act 2013: a guide for local authorities on setting licence fees and the Mobile Homes Act 2013: new licensing enforcement tools - a guide for park home site owners have been produced by the Park Homes Working Group and have been published today.
Office address and general enquiries
2 Marsham Street
London
SW1P 4DF
Contact form http://forms.communiti...
General enquiries: please use this number if you are a member of the public 030 3444 0000
Published 1 March 2014