Press release
Poverty statistics: Fall in number of children in workless poor families
New annual poverty statistics out today, show how the number of children in workless poor families has reduced by 100,000 children over the past year.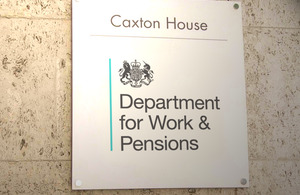 New annual poverty statistics (Households below average income) out today, show how the number of children in workless poor families has reduced by 100,000 children over the past year (a 2 percentage point reduction).
Work remains the best route out poverty – these statistics show how children in workless households are around 3 times more likely to be in poverty than those in working families.
The statistics for relative poverty – the most commonly used poverty line – also show that the most vulnerable groups have been protected as pensioner poverty fell by 100,000, disability poverty by 100,000 and child poverty stayed the same.
The number and proportion of working-age adults in relative poverty has also remained at about the same level and overall, the number and proportion of all individuals in relative poverty stayed level. Children in households experiencing low income and material deprivation fell slightly.
Ministers are now looking to develop wider measures to better reflect the reality of child poverty in the UK today, to include income but also address the root causes such as worklessness, educational failure and family breakdown.
Work and Pensions Secretary, Iain Duncan Smith said:
Despite paying out £170bn in tax credits alone, the previous government failed to meet their target to halve child poverty by 2010 and far too many children were left behind.

While this government is committed to eradicating child poverty, we want to take a new approach by finding the source of the problem and tackling that. We have successfully protected the poorest from falling behind and seen a reduction of 100,000 children in workless poor families. Our welfare reform programme will further increase work incentives.

Today's figures underline the need for better measures of child poverty that are not so heavily dependent on where we draw the poverty line. Our new approach with wider measures is not designed to hide the scale of child poverty in this country, but to make clear the real challenge we face so we can start dealing with it properly.
The number of children in absolute child poverty has increased by 300,000. This was due to incomes not increasing as fast as inflation which was very high and is now coming down. This was the experience of working families right across the income spectrum – working low income families were no worse off than other working families.
The recent change of the absolute measurement has also had an effect on the proportion and number of people identified as in absolute low income.
The government remains committed to making work pay. Welfare reforms with the introduction of the Universal Credit will improve the lives of some of the poorest families in our communities, making 3 million households better off and lifting up to 250,000 children out of poverty.
These figures do not take into account the further reductions in poverty from the expected increase of 300,000 additional people in work due to Universal Credit.
The government is also firmly committed to giving poor children the best opportunities in life to help break the poverty cycle so they do not go on to become poor adults.
Targeting education as a route out of poverty, the government is investing £2.5 billion in the Pupil Premium to raise education attainment of poor children, as well as 260,000 disadvantaged 2 year olds receiving 15 hours a week of free early years education.
More information
Details include:
relative poverty is the most commonly used poverty line – 60% of median income
absolute poverty gives the number of individuals with income below 60% of median income in 2010/11, adjusted for inflation
on 16 May 2013 we published a technical note explaining that the baseline year used for measuring absolute poverty had changed – so you cannot compare this year's published figure with last year's published figure
the update means that, in line with the in line with the Child Poverty Act 2010 and to keep the absolute measure more in line with contemporary living standards, we are now using the 2010/11 baseline instead of the 1998/99 baseline
DWP Statistics – Households Below Average Income)
Press Office
Caxton House
Tothill Street
London
SW1H 9NA
London Press Office (national media and London area enquiries only – not questions about personal claims) 020 3267 5144
Out-of-hours (journalists only) 076 59 108 883
England and Wales (local media enquiries) 029 20 586 then 097 or 098 or 099
Scotland (local media enquiries) 0131 310 1122
Media enquiries for this press release 0203 267 5106
Follow us on Twitter www.twitter.com/dwppressoffice
Published 14 June 2013