Press release
Post Office service for pensioners and benefit claimants to be safeguarded with new government contract
A new £250 million contract, to protect vulnerable pensioners, benefit claimants and help safeguard the future of the Post Office, agreed by the government.
A new £250 million 7 year contract, which will protect a key service for vulnerable pensioners and benefit claimants as well as help safeguard the future of the Post Office network, has been agreed by the government.
DWP Minister Steve Webb has announced in Parliament today the signing of a new deal with Post Office Limited to ensure the Post Office Card Account remains available until at least November 2021. The service was previously due to be withdrawn in March 2015.
The new contract realises efficiency savings of 10% compared to the previous contract – saving the taxpayer millions of pounds – but the amount of money paid to subpostmasters for each transaction will remain the same.
The Post Office Card Account provides simple banking services for people without a traditional bank current account, to ensure they can receive the benefits, tax credits, state pensions or war pension to which they are entitled. Around 2.5 million people currently hold one.
People with a Post Office Card Account can withdraw money or check their balance at any of the Post Office's 11,500 branches or by using one of a network of almost 2,500 Post Office ATMs spread across the UK branch network.
Steve Webb, Minister for Pensions, said:
I am very pleased that we have secured this new contract, which provides good value to the taxpayer, ensures the continuation of a valuable service for pensioners and benefit claimants, and helps safeguard the future of the Post Office network.

Although most people have a bank account, there are certain groups for whom this is not viable and, for them, the Post Office Card Account provides an important lifeline. This new agreement will also help subpostmasters to retain footfall and generate income for their important local businesses.

I know as a constituency MP that local sub-post offices are so often at the heart of their communities, and I am delighted that this contract will help to secure their future.
Whilst the vast majority of pensions and benefits are paid directly into recipients' bank accounts these days, many older pensioners continue to prefer to collect their pension over the counter at their local Post Office, and the Post Office Card Account enables them to do this.
In common with basic current accounts offered by some high street banks, a Post Office Card Account can be opened without a credit check, meaning that people with a poor credit history are also able to access the service without difficulty. There is no overdraft facility, preventing account holders from going overdrawn and getting into debt problems.
The account also provides the option for claimants who need someone else to collect their money for them – for example because of a disability – to apply for a second card.
The government is keen to encourage all benefit claimants who are able to open a bank account to do so and enjoy the greater transactional services these offer, such as direct debit facilities and the option to have a debit card or cheque book. But it is also recognised that certain groups remain unable to access such services.
The announcement is testament to the importance the government continues to place on the Post Office to provide access to public services, and the great strides it has made in its modernisation programme, which has transformed thousands of branches across the UK.
Paula Vennells, Post Office Chief Executive, said:
This is welcome news for the millions of people across the country who rely on their local Post Office to provide access to their pensions and benefits. It is also great news for our 11,500 branches and our postmasters as providing access to the Post Office card account is a key part of their service offering. We have cemented our network as the infrastructure for community banking. Continuing to offer access to this vital service is a key element of this role.
The Post Office network is at its most stable for decades. It remains at the heart of communities and is investing in its network to build a sustainable future. It is transforming around 10 branches a day into new modern retail outlets, with many offering longer opening and over 2,000 open on Sunday. These branches are offering an extra 90,000 hours a week for their customers.
George Thomson, General Secretary of the National Federation of SubPostmasters, said:
We welcome today's announcement by the government, which is good news for our post offices and for the millions of people who rely on them. The renewal of the Post Office Card Account will help provide the Post Office network with a more stable future and we look forward to working with the government to explore other ways it can make use of the network.
Earlier, Steve Webb visited a Post Office branch in Stanmore to speak to staff and customers about the impact this contract announcement will have.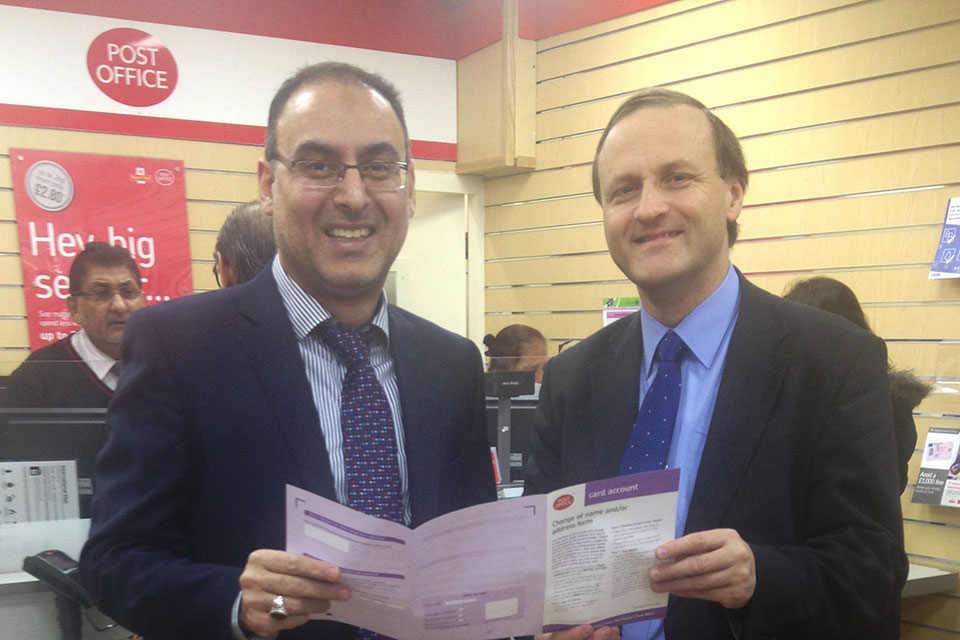 Mohmud Ladak, subpostmaster at the Stanmore branch in Middlesex, said:
I'm delighted to be part of such an important announcement. This really is a welcome boost for both my branch and my customers, many of whom visit each week to withdraw cash and check their balances. I'm sure that people in the area will be delighted at the news that they can continue to do this, at the same time as paying their bills or posting a parcel.
The new contract has been agreed between the government and Post Office Limited and will be signed shortly. It will run for 7 years.
Jo Swinson, Minister for Postal Affairs at the Department for Business Innovation and Skills, said:
This announcement builds on the strength of a Post Office network that is reaping the benefits of modernisation. The government has committed £2 billion to protect and modernise the network, to ensure that the millions of customers using the Post Office every week continue to be able to access key services.

With nearly 12 000 branches, the Post Office network has an unparalleled reach up and down the country. Today's good news also recognises the important social and economic role that subpostmasters play in local communities across the UK, bringing important revenue and footfall to Post Offices and helping to protect their long term future.
More about the Post Office Card Account
The Post Office Card Account was introduced in 2003 as part of the phasing out of order books. The previous contract was due to expire in March 2015, which would have led to the withdrawal of the service.
There are approximately 2.5 million active Post Office Card Account users, which represents around 15% of all benefit claimants and pensioners. Over half of account users are pensioners and many rely on someone else to collect their payments for them.
Figures for the number of Post Office Card Account users broken down by local area are available on request from the DWP press office.
Read more about the Post Office Card Account
Contact the Press Office
Media enquiries for this press release – 0203 267 5106
Press Office
Caxton House
Tothill Street
London
SW1H 9NA
London Press Office (national media and London area enquiries only – not questions about personal claims) 020 3267 5144
Out-of-hours (journalists only) 076 59 108 883
England and Wales (local media enquiries) 029 20 586 then 097 or 098 or 099
Scotland (local media enquiries) 0131 310 1122
Follow DWP on:
Published 16 December 2014