Pop stars launch Poppy Appeal 2012
This year's Royal British Legion Poppy Appeal was launched today in London's Trafalgar Square where passers-by were treated to a pop-up concert performed by musical celebrities.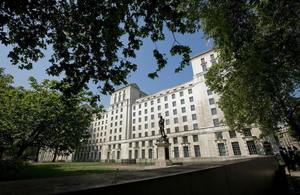 Singers Alesha Dixon and Pixie Lott headlined the free concert which was dedicated to Armed Forces families.
They were joined by the Military Wives Choir and star of West End musical 'Let It Be' James Fox, singing the official Poppy Appeal 2012 single 'Landlocked', co-written by multi-award-winning lyricist Sir Tim Rice.
Ahead of the launch Alesha Dixon said:
I am honoured to be a part of the Poppy Appeal this year. I took part in wheelchair basketball and archery at the Battle Back Centre for injured Service personnel, which is run by the Legion.

It was personally inspiring to meet the centre staff and participants such as Clive Smith, who was seriously injured in Afghanistan. I saw first-hand how Clive and other troops are being supported in their recovery through sport, and to focus on what is possible.

They put their necks on the line to give us all a normal life, and I'm glad to be giving something back to them by supporting the Poppy Appeal.
Commenting on her support, Pixie Lott said:
My grandad was in the Royal Navy and my great-grandad was in the Royal Marines Light Infantry, so when the Royal British Legion asked me if I'd be one of the faces of this year's Poppy Appeal, I jumped at the chance.

I visited RAF Northolt to see the Legion's fantastic work at their monthly advice clinic and met Pamela, a single mother with a one-year-old daughter. The Legion's staff gave Pamela a shoulder to lean on during her divorce, and she's now getting ready for a tour of the Falkland Islands at the end of November.

I really admire Pamela's courage and resilience and feel proud to be supporting brave Service people like her.
This year's Poppy Appeal target is a record-breaking £42m, with all the money raised going towards the Legion's vital support for members of the Armed Forces and their families in need.
The Legion's Director of National Events and Fundraising, Russell Thompson, said:
As a result of the public's generous support, the Legion is able to spend £1.7m every week on direct, practical care for over 165,000 people a year.

We're thrilled to be starting the Poppy Appeal on such a high note and expect this year's Appeal to be the most successful ever.
The Legion offers flexible and wide-ranging support to all generations of the Armed Forces and their families, including emergency grants, debt advice, employment and training support, assistance through tribunals and inquests, and care homes and family breaks.
Jade Mandara's family benefited from the Legion's support when they were forced to move home suddenly. She said:
I call the Legion my angel - I would have been homeless without them. I really panicked when I found out we had to move out of our house, especially because my partner Shane was serving in Afghanistan at the time.

The Legion has been brilliant; they gave us bond, rent and white goods - everything we needed to set up a new home. We're also going on a family holiday next year thanks to the Legion. It will be amazing to go away with Shane and our two baby girls.
Support to help current Service personnel was one of the Legion's priorities for 2012 through a £30m commitment to create and operate the Battle Back Centre, an initiative delivered alongside the Ministry of Defence and Help for Heroes.
The centre provides sports and adventure activities to help wounded, injured and sick Service personnel recover.
Sapper Clive Smith, one of the faces of the Poppy Appeal 2012 poster campaign, said:
Taking part in activities like wheelchair basketball, rock climbing and bowling was great fun and really encouraged me to focus on what I could do, as opposed to what I couldn't do, after injury.

The Battle Back Centre has given me a positive outlook which has really helped in all parts of my life. It's humbling to know that the centre has been created because of the public's generous support for guys like me through the Poppy Appeal.
Published 24 October 2012