Polish-British Belvedere Forum held in Warsaw
The third edition of the Belvedere Forum took place at the Royal Castle in Warsaw on 6-7 March 2019.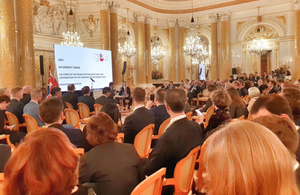 The Polish-British Belvedere Forum brings together representatives from a wide range of backgrounds, including academia, business, media, think tanks, NGO's, culture, and the diaspora.
Close to 300 people from the UK and Poland participated in the third edition of the Forum, held on the year in which the UK and Poland celebrate 100 years of renewed diplomatic relations. Participants discussed important topics on the agenda of civil society in both countries, including climate change, corporate social responsibility, the question of dual Polish-British identity, and the future of Polish-British relations after the UK leaves the EU.
During the Forum, the first "Belvedere Award" for exceptional contribution to UK-Poland relations was presented to prof. Norman Davies, British-Polish historian noted for his publications on the history of Europe, Poland and the United Kingdom. Co-chair of the Belvedere Forum Steering Committee, Sir Malcolm Rifkind, stated that the award was presented to prof. Davies in appreciation of "his outstanding contribution to British-Polish dialogue, and for helping people in the UK understand Poland in a way they could not have otherwise understood."
The opening session of the Forum, including the presentation of the Belvedere Award, was broadcasted live and can be watched on the Belvedere Forum Facebook page.
The Forum also included a special Q&A session with Sir Dermot Turing, author of the book "X, Y & Z: the real story of how Enigma was broken", about the story of Polish cryptologists and their contribution to breaking the Enigma code during the Second World War. The Q&A session was broadcasted live and can be watched on the Belvedere Forum Facebook page.
The Belvedere Forum aims to deepen the dialogue between British and Polish civil society and strengthen the extensive partnership between our countries. While the initiative is focused on links through civil society, it enjoys the full backing of both governments and follows an agreement by Prime Ministers in November 2016 to complement annual, Polish-British intergovernmental consultations. During the third edition of the Forum, it was agreed that co-organisation of the Forum will pass to Chatham House and to Poland's Institute for International Affairs (PISM).
Published 8 March 2019