News story
Policing Minister praises force's new base
Damian Green visits Wiltshire's joint police station and council offices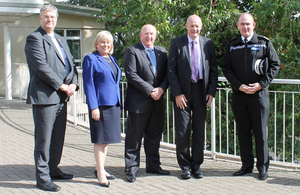 Policing Minister Damian Green has praised Wiltshire Police's decision to share a building with council staff.
The force moved Chippenham's neighbourhood policing team, response officers and public enquiry desk into Wiltshire Council premises at Monkton Park.
The concept of the public sector sharing resources is a fundamental part of Wiltshire Police and Crime Commissioner Angus Macpherson's Police and Crime Plan.
He invited the minister to Monkton Park on Wednesday 18 September to meet officers and find out more about how the force and the council are working together.
Benefits
The minister heard about the benefits of sharing Monkton Park, such as neighbourhood police officers having convenient face-to-face contact with council staff rather than having to use the phone or email.
Officers also said the public felt more comfortable coming into the shared building to speak to a police officer rather than face the stigma of walking into a police station.
The minister was also told how Monkton Park's town centre location meant the police were now more visible than when they were based in their old police station on the edge of Chippenham.
Policing Minister Damian Green said:
I was very impressed to hear how the police and council are working together. Occupying the same building increases the police's accessibility to the public and both the police and council have discovered it makes them both more effective at doing their jobs.

Although it will have financial savings, the main driver is making the police more effective and visible to the public. This shows forces can save money and provide a better service.
Improving services
Wiltshire Police say sharing resources with the council leads to the more efficient use of finances, helping to protect and improve front-line services.
Wiltshire Police and Crime Commissioner Angus Macpherson said:
Working jointly across public sector boundaries in Wiltshire is a way in which we can provide good quality and sustainable services to council taxpayers.

In the future, I look forward to sharing more sites and even closer working arrangements.
Wiltshire Chief Constable Pat Geenty said:
The police service being co-located at Monkton Park is proving successful so far with improved customer service and saving money in light of the significant budget cuts all public agencies are facing.

We have seen real benefits from being under the same roof as our council colleagues.
Published 19 September 2013