News story
Police volunteers to be given powers without taking on role of special constable
Extra powers for volunteers will help police officers keep communities safer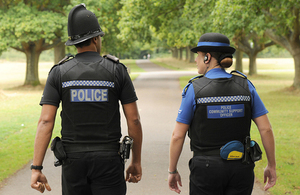 The Home Secretary has announced a package of reforms to the powers and roles of police staff and volunteers.
Since 1831, volunteer Special Constables have held all of the powers of a constable - whereas Police Support Volunteers have held none. The reforms will, for the first time, enable volunteers to be given powers without becoming a Special Constable. The government will also set out the core list of powers only available to a police officer holding the office of constable. The measures, which will form part of the Policing and Crime Bill, also include:
enabling chief officers to designate a wider range of powers on police staff and volunteers;
enabling volunteers to be designated with powers in the same way as staff; and
abolishing the role of traffic warden under the Road Traffic Acts.
Volunteers and police working together
The changes will enable volunteers and staff to work more closely with officers, helping them to police communities and keep them safe. Additionally, these reforms will help to bring new skills and expertise to policing, freeing up police officers to concentrate on core policing tasks.
For example, Hampshire and Gloucestershire forces have launched a pilot to attract volunteers with digital skills to support police digital investigations by providing technical expertise to the forces' cyber/digital teams. The pilot is due to run for six to 12 months.
Home Secretary Theresa May said:
Police officers across the country carry out a wide range of duties, keeping the public safe and ensuring justice for the most vulnerable members of society. We value the essential role they play, but they cannot do this on their own.

We want to help forces to create a more flexible workforce, bring in new skills and free up officers' time to focus on the jobs only they can carry out.

At the same time, we want to encourage those with skills in particular demand, such as those with specialist IT or accountancy skills, to work alongside police officers to investigate cyber or financial crime, and help officers and staff fight crime more widely.

This Government is committed to finishing the job of police reform and the upcoming Policing and Crime Bill will help to do just that.
National Police Chiefs' Council Lead for Citizens in Policing, Chief Constable Dave Jones said:
The new approach to designating police powers will help the police service be more flexible when it comes to attracting and deploying volunteers with valuable skills, especially in situations where the full powers of a constable are not necessary.

The onus on chief constables is to use the powers wisely, ensure they fit the needs of local policing and provide appropriate training so that they help us keep our communities safe.

A new strategy for citizens in policing is being developed; as part of this we are seeking the views of all volunteers across the police forces of the UK, looking at their roles and experience in the past and planning for the future. The new powers will form part of this strategy and give us more opportunities to harness the great appetite for volunteering in the UK.
Police reforms since 2010 have brought in proper accountability, real transparency and much greater efficiency. The Policing and Crime Bill aims to finish the job of police reform by freeing up police time, ensuring forces have the right people and skills to cope with the changing nature of crime, and overhauling the police complaints and disciplinary systems to increase accountability, ensuring cases are dealt with quickly and effectively.
The full government response to the consultation is available on GOV.UK
Published 20 January 2016