The government's radical programme will produce a police force that is answerable to the public and transformed in its ability to fight crime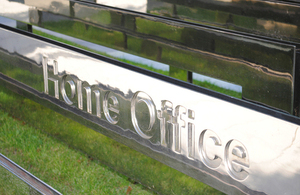 The Home Secretary told an audience at the Institute of Civil Engineers that police reforms will not just save money but equip the police to face the future.
She said: 'When people talk about public service reform it's often through the prism of cuts. With the deficit we have, that's understandable, but it's just not what our police reforms are about.
'Of course, the need to make savings makes reform more urgent than ever. But the aim of our police reforms is not just to save money, it's to equip the police to face the future and make them more effective at fighting crime.'
Fair system of pay
A full independent review of police and pay conditions was carried out by Tom Winsor last year. This has been considered by the independent Police Arbitration Tribunal and today, the government agreed to implement its recommendations in full. The Home Secretary said it would create a system of police pay that is fair to the public and officers and save around £150 million per year.
Savings
The government is leaving no stone unturned to make the police more efficient.
A police information and communications technology company is being created to help police forces improve their systems and save money. Police forces are also being helped to come together to use their collective buying power in procuring goods and services from uniforms to patrol cars.
The government's police procurement programme has already realised savings of £34 million - projected to rise to around £70 million by the end of the financial year.
Police are being freed to get on with fighting crime through measures that will cut police bureaucracy and save up to 3.3 million police hours per year.
Empowering the public
Empowering the public is the theme that runs through the government's whole police reform programme and, from November, the public will be able to vote for Police and Crime Commissioners. Commissioners will bring democratic accountability to the police when they are elected.
The link between police and public is being strengthened with the introduction of a single non-emergency 101 number to replace other numbers used by forces around the country and our crime mapping website police.uk.
As well as local offending, crime on a national level will be tackled by a powerful new organisation that works across force boundaries - the National Crime Agency.
The government is working with the police to develop a Police Professional Body, which will be the authoritative voice on policing issues. It will draw on the views, skills and expertise of all officers and staff, in particular those working on the frontline.
Published 30 January 2012