Press release
Police and Environment Agency swoop on water
Police and Environment Agency Fisheries Enforcement carried out a joint raid on one of Cambridgeshire's coarse fisheries yesterday.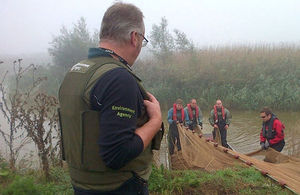 Operation 'Vulcan' involved 15 officers from Cambridgeshire police and the Environment Agency carrying out searches on site for alleged offences under the Theft Act, Salmon and Freshwater Fisheries Act and the Import of Live Fish Act.
Intelligence
Operation Vulcan was the culmination of weeks of investigation, with police officers working side-by-side with Environment Agency staff. The investigation was based on intelligence collected and reported locally by anglers and involved a fishery close to Peterborough.
Kye Jerrom, Environment Agency Fisheries Enforcement Officer, said:
Specimen carp can have a surprisingly high value, not just for the individual fish, but the associated amenity value to the water they swim in. A carp of 40lb could easily sell for £4,000 and anglers might spend up to £600 per year just to fish for it. Fish theft might not be a well-known crime, but it certainly hits the pockets of those affected.

Illegal fish movement can also increase the risk of disease and threatens ecology of waters. We take this crime very seriously and work with anglers to ensure we protect and enhance all fisheries, big or small, natural or newly created, and the legal fish supply trade.
Netting
PC Alun Bradshaw of Cambridgeshire Police Wildlife Crime team said:
The investigation was launched after information came to light that fish may potentially have been illegally sourced from other waters. We are working with the Environment Agency's skilled staff and specialists to help match any captures to those suspected of being from different waters.
The operation involved netting on the site and detailed searches of the fishery and outhouses.
Any suspected Illegal fishing activity should be reported to the Environment Agency's Incident Hotline on 0800 80 70 60. All anglers need a valid Environment Agency rod licence which allows them to use up to two rods. Licenses can be bought using a credit or debit card by calling the Environment Agency's telesales line on 0344 800 5386. Alternatively, they can be obtained from any Post Office or via the internet.
Published 17 September 2014