Press release
Police and crime commissioners to swear oath of impartiality
PCCs will be brought into line with judges and police officers by swearing an oath of impartiality when they are elected to office.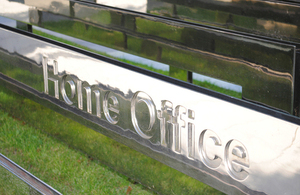 The government unveiled the oath today, just under three months before polls open on 15 November. Successful candidates for each of the 41 newly elected positions in England and Wales will be required to pledge to represent 'all sections of the public without fear or favour'.
The oath is designed to provide a platform for PCCs to set out publicly their commitment to tackling their new role with integrity and will echo the commitment police officers make to serve every member of the public impartially, while at the same time recognising the importance of the operational independence of the police service.
Police and crime commissioners will work to cut crime by setting priorities in line with the needs of local people and holding chief constables to account. They will bring local people closer to the police, building confidence in the system and restoring trust.
Nick Herbert minister for policing and criminal justice said:
'Police and crime commissioners will be important public servants and it is right that they make a formal public commitment to the communities they will serve.
'Although police and crime commissioners may stand for a political party, the public will expect them to represent all the people in their area impartially, without fear or favour.
'The swearing of an oath will be an important symbol of this impartiality, emphasising both the significance of this new role in local communities and that commissioners are there to serve the people, not a political party or any one section of their electorate.
'An oath will also underline the particular importance of even-handedness in an office which holds to account the local chief constable and police force who themselves are bound to serve impartially.'
The government is today launching an informal consultation on the wording of the oath. Once agreed, secondary legislation will be laid to set the wording of the oath and make its swearing compulsory.
Find out more about police and crime commissioners.
Notes to Editors
The full oath is:
Full name of place do solemnly and sincerely promise that I will serve all the people of police force area in the office of police and crime commissioner without fear or favour.
I will act with integrity and diligence in my role and, to the best of my ability, will execute the duties of my office to ensure that the police are able to cut crime and protect the public.
I will give a voice to the public, especially victims of crime and work with other services to ensure the safety of the community and effective criminal justice.
I will take all steps within my power to ensure transparency of my decisions, so that I may be properly held to account by the public.
I will not seek to influence or prevent any lawful and reasonable investigation or arrest, nor encourage any police action save that which is lawful and justified within the bounds of this office.
MPs and members of the house of lords must take an oath of allegiance to the crown, as must privy counsellors and members of the military. Judges and police officers take an oath of allegiance but also take an oath to carry out their duties with impartiality and fairness.
Published 16 August 2012