Police and Crime Commissioners to swear an oath of impartiality
Police and Crime Commissioners will be required to swear an oath of impartiality when they are elected to office in November, the Government announced today.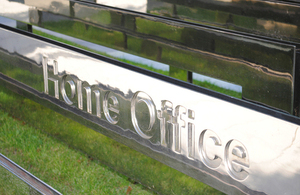 The Minister for Policing and Criminal Justice, Nick Herbert, told the Association of Chief Police Officers that swearing a public oath would send the strongest signal to local communities that the 41 newly elected Commissioners in England and Wales would represent all sections of the public without fear or favour.
It would provide a platform for Police and Crime Commissioners (PCCs) to set out publicly their commitment to tackling their new role with integrity, impartiality and fairness.
An oath would enable PCCs to echo the commitment police officers make to serve every member of the public impartially, whilst at the same time recognising the importance of the operational independence of the police.
Swearing an oath publicly would also reinforce in the public mind the importance of this new office and the significance of the change it represents in giving the people a new say over local policing.
Without fear or favour
Speaking at ACPO's Annual Conference in Manchester, Nick Herbert said:
'Police and Crime Commissioners will be important public servants and it is right that they make a formal public commitment to the communities they will serve.
'Although Police and Crime Commissioners may stand for a political party, the public will expect them to represent all the people in their area impartially, without fear or favour.
'The swearing of an oath will be an important symbol of this impartiality, emphasising both the significance of this new role in local communities and that Commissioners are there to serve the people, not a political party or any one section of their electorate.
'An oath will also underline the particular importance of even-handedness in an office which holds to account the local chief constable and police force who themselves are bound to serve impartially.'
The Government is consulting informally on the wording of the oath before introducing the necessary secondary legislation to set the wording of the oath and make its swearing compulsory.
Published 23 May 2012