Police and crime commissioner candidate website goes live
Candidates hoping to be elected as the country's first ever PCCs will make their case to the public from Friday 26 October.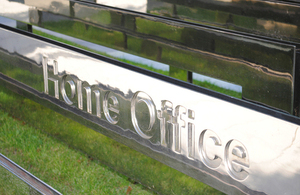 In just three weeks time the country will go to the polls to elect their PCC, giving people a direct say in how their streets are policed and how crime is tackled in their area.
Voters will be able to find out all they need to know about each and every potential PCC when the www.choosemypcc.org.uk website is updated with each candidate's vision for policing in their local area on Friday.
Prime Minister David Cameron said:
'My message for these elections is clear. If you want more tough policing, you can get it.
'If you want police officers who are on the beat, on your street, cracking down on anti-social behaviour, focusing on the things you care about, then don't just talk about it - get out on 15 November and vote.'
Almost 200 candidates have put themselves forward and will be on the campaign trail in the coming weeks, urging people to vote and have their say.
Home secretary Theresa May said:
'The government's police reforms are working - forces are delivering more for less, the frontline is being protected and crime is falling.
'Police and crime commissioners are the next instalment of those reforms. They will put you, the public, back at the heart of our drive to cut crime, giving you a real say in how your local area is policed.
'They will listen to you and hold chief constables to account on your behalf. Their decisions over the next four years will matter. And if they don't do a good enough job you can kick them out at the next election.'
PCCs will make forces truly accountable to the communities they serve, ensuring that resources are properly targeted to where they are needed and giving the public a greater say in measures to reduce crime and improve community safety.
They will:
represent and engage with all those who live and work in the communities in their force area and identify their policing needs;
set priorities that meet those needs by agreeing a local strategic plan for the force;
hold the chief constable to account for achieving these priorities as efficiently and effectively as possible and playing a role in wider questions of community safety;
set the force budget and the policing precept in council tax bills;
appoint - and, where necessary, remove - the chief constable.
Currently visitors to www.choosemypcc.org.uk can register to receive an email notification when information for their candidates goes live. On Friday 26 October the website will be updated with details of each and every candidate.
Notes to editors
1. To receive information about candidates by post, voters can order online or call 0800 107 0708.
2. For more information contact Simon Barrett in the home office press office on 020 7035 3848, email simon.barrett2@homeoffice.gsi.gov.uk, or call the newsdesk on 020 7035 3535.
Published 24 October 2012