Podcast marks International Women's Day
The fourth in our human rights series focuses on women in Libya. It features Sara Maziq, the co-founder of the Libyan Civil Society Organisation and Women 4 Libya, and Elham Saudi, co-founder and Director of Lawyers for Justice in Libya.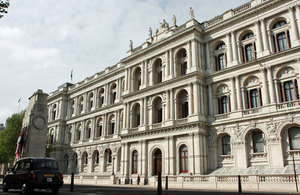 This audio download is introduced by the FCO's Minister with responsibility for human rights policy Jeremy Browne.
Sara and Elham offer unique perspectives on developments over the last year. A former investment banker, Sara quit her job in Dubai to devote herself full-time to the uprising against the Qaddafi regime. Meanwhile, Elham used her expertise to help in the reform of the Libyan legal system. Offering insights into wide-ranging experiences of girls and women in Libya, they picture a future that is both challenging and hopeful.
The podcast is available to download via our website or iTunes.
Published 8 March 2012