News story
PM's Holocaust Commission meets President Jimmy Carter
The Holocaust Commission met former US President Jimmy Carter as part of a public consultation on how the UK should remember the Holocaust.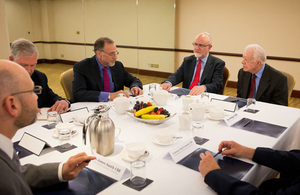 Prime Minister David Cameron's Holocaust Commission marked the final day of its public consultation today (30 May) by taking evidence from former US president Jimmy Carter, whose own commission in 1978 led to the creation of the United States Holocaust Memorial Museum in Washington, D.C.
As the Prime Minister's Commission considers whether the UK should have its own Holocaust Memorial Museum, Holocaust Survivor Ben Helfgott and Commission Chair Mick Davis met the former US President in London to discuss the creation of the Washington Museum.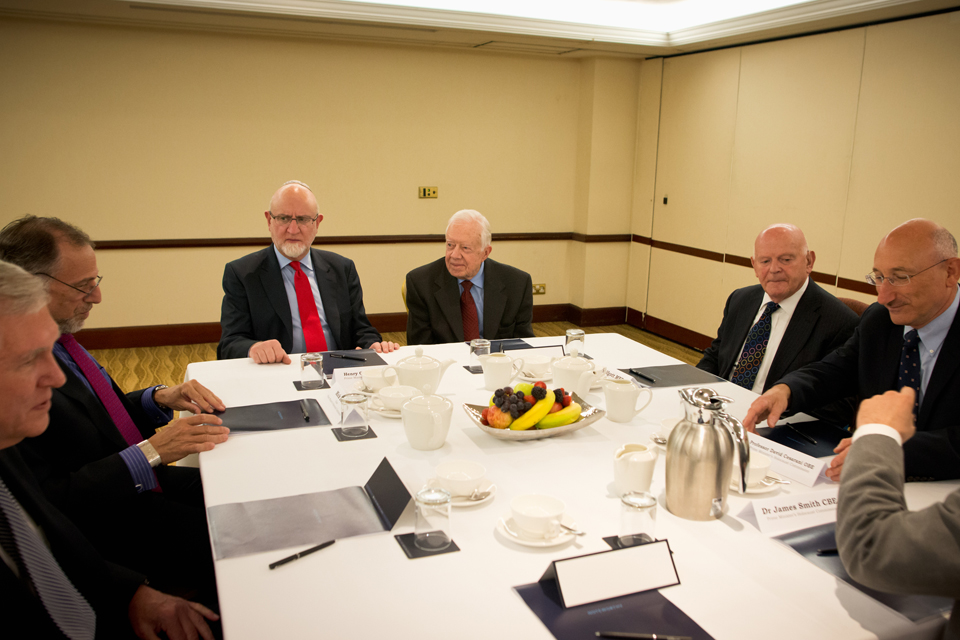 President Carter said:
We must never forget what happened in the Holocaust. Prime Minister David Cameron's Commission with all-party support is set to make an important contribution to this work.
Holocaust Survivor Ben Helfgott said:
Few people in the world have made a greater contribution to Holocaust Commemoration than President Carter. It is great to have his support for our work and to be able to learn from the experience of his own Commission.
The meeting comes on the final day of the UK public consultation which has now received almost 2,500 written submissions and seen over 1,000 people attend consultation events across the country, including one of the largest gatherings of Holocaust Survivors in British history at Wembley Stadium earlier this month.
The Chair of President Carter's Commission, Nobel Peace Prize winner Elie Wiesel, is also supporting the Prime Minister's Commission, including by acting as the head judge of a competition to find a young person to sit on the Commission. Hundreds of young people from all over Britain have written essays with their ideas on how Britain should commemorate the Holocaust. The winner will be invited to join the Commission for its deliberations in the second half of the year.
The Commission will make recommendations to the Prime Minister by the end of the year.
Published 30 May 2014