News story
PM tours new RAF accommodation
Prime Minister David Cameron and Defence Minister Mark Francois conducted a welfare and housing visit at RAF Brize Norton on Friday 3 May.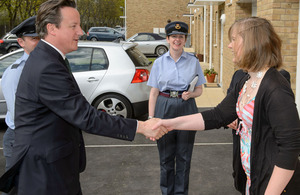 The tour began with a brief by Group Captain Steve Lushington, RAF Brize Norton Station Commander, after which Minister of State for Defence Personnel, Welfare and Veterans Mark Francois received a tour of a C-17 from personnel of 99 Squadron.
The C-17 Globemaster aircraft operated by 99 Squadron have recently been flying 5,000-mile round trip missions on a near daily basis, transporting armoured vehicles, freight and personnel from Evreux Air Base in France to Bamako in Mali, in support of French military operations in the West African state.
Flight Sergeant Steve Duncan spoke to the minister explaining the capabilities of the aircraft and the role it plays in support of the RAF and wider Armed Services on operations such as in Afghanistan.
Flight Sergeant Duncan said:
We're very proud of our role in the Critical Care Air Support Teams, aeromedical evacuation (air-lifting wounded personnel), and in getting military personnel home from theatre.

We also play a part in repatriations and are proud to be able to help serve the families in the best possible way.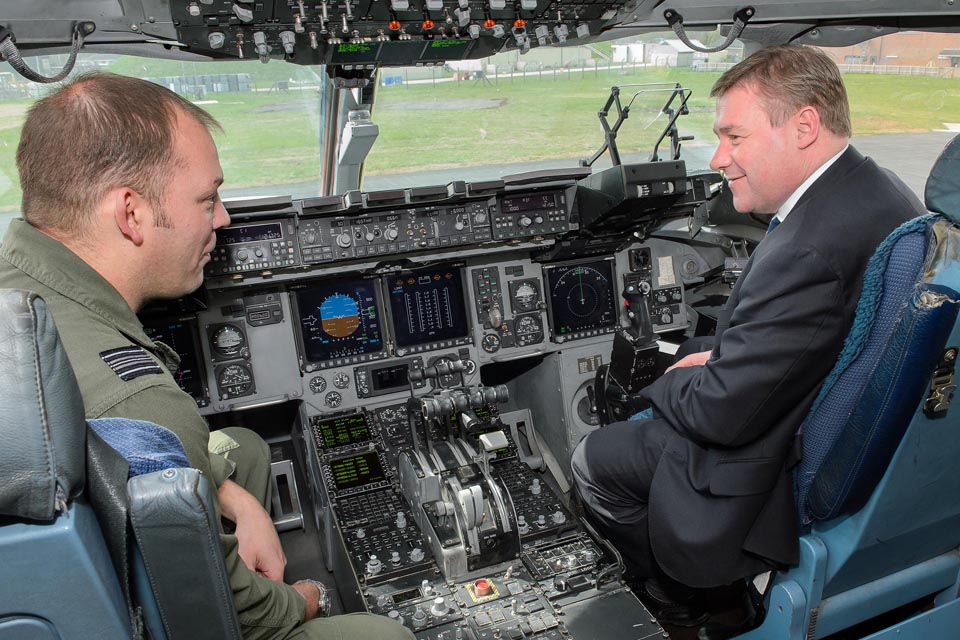 Flight Commander Training Squadron Leader Blakemore, Senior Engineering Officer Squadron Leader Gilbertson and pilot Flight Lieutenant Payne then provided a tour of the cockpit and a brief on the performance of the aircraft.
The Prime Minister visited the Families Club in Carterton, where he met key personnel involved in welfare and housing at RAF Brize Norton. Air Commodore Alan Opie, Head of Operations Accommodation at the Defence Infrastructure Organisation, explained the past and present housing challenges, followed by plans for future housing resolutions which, after the closure of RAF Lyneham in 2011, included the transfer to Brize Norton of an estimated 4,000 personnel, many of whom required Service housing.
Mr Cameron said:
These houses are a great example of what the RAF is doing to provide better forces accommodation for Brize Norton, and that is hugely valuable.

It has been good to get an update on the plans to knock down and rebuild the less good housing and I'm satisfied there's a plan.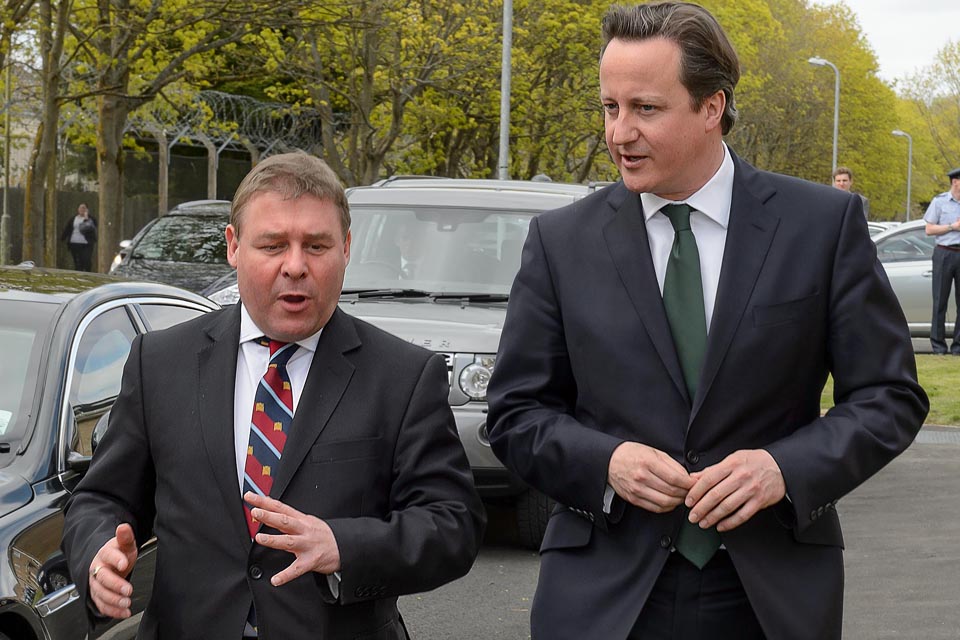 Wing Commander Justine Morton, Officer Commanding Base Support Wing, said:
The station is growing in size and we needed more accommodation to support that growth in population. This is the start of that. We're moving forward to provide the best support we can to personnel and their families.
The visit ended with a tour provided by Rosie Lester, a new resident of one of the 42 newly-built families' quarters at RAF Brize Norton.
Mrs Lester said:
I am very happy with the house my husband and I have been provided with. It's very spacious and comfortable and is more than we would be able to afford if buying in this area.

Having people around when my husband is on detachment, who can be supportive and totally understand your situation, is fantastic. You have a lot of support networks and people.
Published 9 May 2013