Press release
PM meeting with the Polish President Andrzej Duda: 9 July 2016
PM met with President Duda and congratulated him on hosting a successful NATO summit and discussed UK-Poland's relationship following the EU referendum.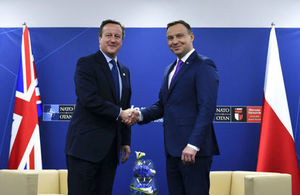 A Downing Street spokesperson said,
The Prime Minister held a bilateral meeting with the Polish President Andrzej Duda earlier today in the margins of the NATO Summit in Warsaw

The Prime Minister congratulated the President on hosting a successful summit with substantive outcomes.

They agreed the ties between the UK and Poland were strong, and that it would be important for the UK to stay close to Poland and the rest of Europe following the referendum.

The Prime Minister set out his clear expectation that the legal rights of Poles currently residing in the UK would be properly protected after we left the EU, provided the rights of British citizens currently residing in the EU were similarly protected.

Finally, the Prime Minister condemned the recent hate crimes against Poles in the UK in the strongest possible terms, saying the attacks were un-British and had no place in our society.
Published 9 July 2016