News story
PM meeting with the Emir of Qatar: October 2014
David Cameron welcomed the Emir of Qatar to Downing Street this afternoon.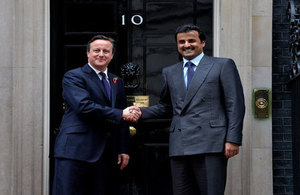 Following the meeting, a Downing Street spokesperson said:
The Prime Minister hosted the Emir of Qatar at Downing Street today for bilateral talks and a working lunch.
Both leaders agreed that the bilateral relationship is growing and that we should deepen links in a broad range of areas, from economic ties to security co-operation. The 'Sharaka' agreement, signed by both foreign ministers during the visit, is a clear signal of the commitment from both countries to strengthen ties on culture, defence, education, trade and energy.

The Prime Minister welcomed recent Qatari investment of over £20 billion in Britain and encouraged the Emir to consider more opportunities across the country, particularly the Government's plan to establish a northern powerhouse by connecting our great Northern cities and the development of high speed rail. They also discussed the opportunities for British businesses in Qatar, notably in the development of hospitals and universities.

They also discussed the 2022 World Cup and the Prime Minister offered to share the UK's expertise in the construction industry to support the development of the facilities for this global football event. The Prime Minister also raised long standing consular cases, including that of Adam Jones, and the Emir agreed to follow up on this.

On international affairs, they discussed the role both countries are playing in the coalition to tackle ISIL, and the importance of all countries working to tackle extremism and support to terrorist organisations. The Prime Minister welcomed the recent legislation passed in Qatar to prevent terrorist funding and looked forward to the swift implementation of these new measures. They also agreed that both countries should do more to share information on groups of concern.
Published 29 October 2014