News story
PM meeting with Prime Minister Mark Rutte
Prime Minister David Cameron met the Dutch Prime Minister Mark Rutte to discuss Europe and the situation in Ukraine.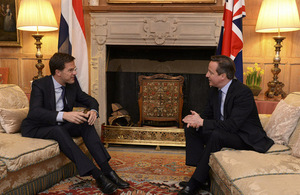 A Number 10 spokesperson said:
The Prime Minister and Dutch Prime Minister, Mark Rutte, met this afternoon at Chequers before an informal dinner.

Their discussions focused on EU affairs: specifically how to reform Europe to make it drive economic growth.

Ahead of this year's European Parliament elections and the appointment of new Presidents of the Council and Commission, they agreed that it is important to set out priorities for the European Union for the rest of the decade. They agreed we should complete the single market and do more at the appropriate level, following the Dutch dictum 'Europe if necessary, national when possible'. They also discussed the need to tackle the abuse of free movement and to explore future co-operation in this area.

They also discussed the situation in Ukraine. Today's agreement is a chance to end the bloodshed and to put the country on the path to peace and stability and all sides must seize this opportunity and stand by their commitments.

The Prime Minister said that we had appreciated the specialist flooding assistance provided by Dutch companies, particularly in the Somerset levels. And they agreed that, as the government considers how to strengthen our resilience to flooding, there would be opportunities for Dutch and British authorities to share ideas and experience.

Finally, they congratulated each other on both countries enjoying their best performance ever at a Winter Olympics.
Published 21 February 2014