News story
PM meeting with Jewish Leadership Council: January 2016
David Cameron welcomed the Jewish Leadership Council to Downing Street earlier today.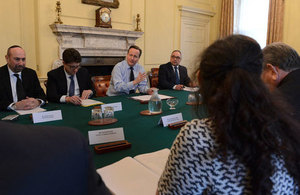 Following the Prime Minister's meeting with the Jewish Leadership Council today a Downing Street spokesperson said:
The Prime Minister met the Jewish Leadership Council earlier today at Downing Street for their annual meeting to discuss issues of importance to the Jewish community and to celebrate their huge contribution to the UK.
The Prime Minister discussed the importance of tackling any form of hatred and prejudice and how we are doing everything we can to ensure the Jewish community feels safe in the UK.
The Prime Minister also recognised how next year is a special year for the Jewish community with the centenary of the Balfour Declaration.
Published 13 January 2016