PM holds talks with General Petraeus
Prime Minister David Cameron met International Security Assistance Force Commander General David Petraeus at 10 Downing Street in London yesterday, Thursday 14 October 2010.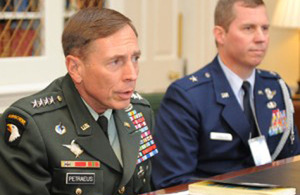 General Petraeus updated the PM on progress in Afghanistan and said that operations in Kandahar and Helmand provinces were proceeding well.
Both Mr Cameron and General Petraeus agreed that training the Afghan National Security Forces remained the highest strategic priority for the military campaign, given the need to get the Afghan Government to take responsibility for the country's security.
General Petraeus also pledged that finding out how British aid worker Linda Norgrove died was his 'personal priority'.
Following the meeting, a Downing Street spokesperson said:
The Prime Minister confirmed that 320 British troops would be redeployed in training roles to help accelerate the training effort. General Petraeus thanked the PM for the ongoing British commitment to Afghanistan and for the valued contribution made by British troops, civilians and equipment.
The PM also raised the case of Linda Norgrove. General Petraeus said that the investigation was a personal priority for him and emphasised that there would be full co-operation between the US and UK.
Published 15 October 2010