PM David Cameron said it was a "privilege" to launch the UK's GREAT campaign in India
"I am passionate about the relationship between Britain and India and I want to do everything I can to make it stronger."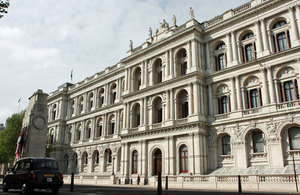 Following is a personal message from British Prime Minister David Cameron to the India Today Conclave 2012 (16-17 March) where the UK is country partner:
"I am sorry that I can't be with you in person, but I want to take this opportunity to say what a privilege it is to launch the Great campaign at the India Today Conclave. You are the people who'll shape the future of India and my message to you today is simple - think Great Britain.
I am passionate about the relationship between Britain and India and I want to do everything I can to make it stronger. People from all parts of India have made their home in Britain. They are a vital and vibrant part of our country. They help strengthen the links between Britain and India and will help Indian people and Indian businesses feel even more welcome when they come to Britain.
As India grows, you want a partner that can support your ambition, that can help build the infrastructure that you need, to give your businesses unrivalled access to European and global markets, and offer your students the best education in the world. I think Great Britain can do all of those things. We are the sixth largest manufacturer in the world. We are a global hub for science and innovation. We have a culture of enterprise and innovation that has helped us to pioneer the internet and unravel the DNA code. We speak the world's language. We have some of the best universities in the world, and because we want the best Indian students to come to our universities, I am delighted to announce today the establishment of 60 fully-funded Masters level scholarships for India. These scholarships will be for students drawn from every corner of the country. They offer a real opportunity for brilliant students who wouldn't otherwise be able to consider studying in Britain.
In short, we are one of the most open and welcoming countries in the world and we welcome the fact that Indian capital and expertise is helping great British brands like Jaguar & Land Rover to conquer the world.
So, in this special Olympic year for Britain I say - come and join, come to Britain, study in Britain, invest in Britain, be part of this special year in a truly great country and help us to make the relationship between Britain and India one of the defining relationships of this century.
Thank you for your support today and I wish you all a very successful Conclave."
David Cameron launches the UK's GREAT campaign in India
Published 17 March 2012