PM calls on Italian counterpart
Prime Minister David Cameron has travelled to Rome to meet his Italian counterpart Silvio Berlusconi.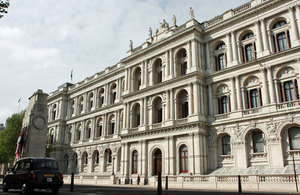 The Prime Minister held a working dinner with the Italian Prime Minister where discussions focused on the economy, trade and commerce links between the two countries, as well as co-operation in Afghanistan.
A Downing Street spokesperson confirmed that the two leaders discussed the next steps on the road to a strong and sustained European economic recovery. They also welcomed each others' fiscal plans and agreed on the importance of galvanising trade and investment between the UK and Italy.
The discussion also covered foreign affairs. On Afghanistan the leaders agreed that continued training of the Afghan security forces was vital to the success of the strategy. They also agreed to co-ordinate efforts on the Middle East, including implementation of EU sanctions on Iran and encouraging a move to direct peace talks between Israel and the Palestinians.
To follow the work of the Prime Minister, visit the Number 10 website.
Published 5 August 2010