PM attends naming ceremony for HMS Queen Elizabeth carrier
The Prime Minister attended the naming ceremony for the new HMS Queen Elizabeth carrier.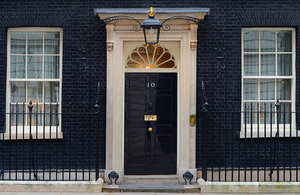 The HMS Queen Elizabeth carrier is the first new carrier in the British fleet in over 20 years and the biggest one ever built in the UK.
It is a manufacturing and industrial achievement for the whole UK with work on it taking place not just in Rosyth but in Appledore, Birkenhead, Govan, Portsmouth and Tyne creating and sustaining over 10,000 jobs across its supply chain. Our national security depends on our economic security and vice versa and this carrier is a clear sign that this government is delivering on both.
Flagship of our nation's maritime ambition
The Prime Minister provided the following words for the Queen Elizabeth carrier's naming book:
Defending our nation, protecting our way of life, promoting our national interests: these are the vital priorities of government and in each of them the Royal Navy has a key part to play.

The United Kingdom is a truly great country whose proud maritime heritage has helped secure its place on the international stage.

We live in a world which is increasingly inter-connected and inter-reliant. But one thing remains unchanged. The world's sea lanes are our trading superhighways, with over 95% of our nation's trade by volume still transported across the high seas.

And so the United Kingdom, together with like-minded partners, is investing in a stable international system at sea, through diplomacy, free trade and maritime security. Here in the United Kingdom that commitment is being matched by a strategic investment in a modern, credible and world-class fleet. That includes everything from cutting-edge air defence destroyers and stealthy attack submarines, to state-of-the-art naval aircraft. But HMS Queen Elizabeth is the flagship of our nation's maritime ambition and will be the spearhead of British sea power for the next half century. She is also a tribute to the skills and craftsmanship of the workforce at Rosyth, on the Clyde, in Portsmouth and in yards and factories throughout the United Kingdom.

As a national instrument of power and influence, HMS Queen Elizabeth is not just an investment in the future of the Royal Navy and our defence. She is an investment in the future of British security, British prosperity and our country's place in the world.
Investing in defence capability
The UK has had to make some difficult decisions about the future of our Armed Forces in order to make sure we remain at the forefront of global defence with a modern, flexible, well trained and well equipped military. This carrier is at the heart of a new period of investment in our Armed Forces. Over the next 10 years we plan to spend £160 billion on equipment and equipment support including Type 45 destroyers, aircraft carriers, Astute Class Submarines and the F-35 stealth aircraft which will operate from the Queen Elizabeth.
As we prepare to host the NATO Summit in Wales this September this is a symbol of the UK's commitment to investing in its defence capability and making sure we remain able to protect ourselves as well as fulfil our obligations to protect our NATO allies.
Published 4 July 2014