PM and Pakistan President agree to strengthen ties
The Prime Minister and Pakistan President Asif Ali Zardari have pledged to increase cooperation between the UK and Pakistan on economic development, security and cultural issues, at a meeting at Chequers earlier today.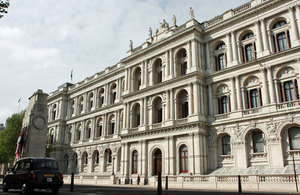 Speaking following the talks, the Prime Minister said:
"Above all, what we have been talking about is our strategic partnership and how we can deepen and enhance that partnership to make sure that we deal with all the issues where we want see progress - whether that is in trade, whether it is in education - and also in the absolutely vital area of combating terrorism."
Discussions also covered the floods that have devastated many parts of Pakistan. The Prime Minister confirmed that the UK was doing a lot to help but stands ready to do more as required to make sure that people get help. The Prime Minister also accepted the President's invitation to make an early visit to Pakistan.
In a separate joint statement the PM and President Zardari stressed the importance of ensuring a "strong, stable, secure and economically prosperous Pakistan" and of tackling security issues at both the global and regional levels. The Prime Minister also acknowledged the sacrifices made by Pakistani military and enforcement agencies in combating extremism. Read the full statement on the Number 10 website.
Published 6 August 2010