Prime Minister and Deputy Prime Minister take public's questions on Spending Review
The Prime Minister and Deputy Prime Minister have answered the public's questions about the Spending Review as they visited Nottingham.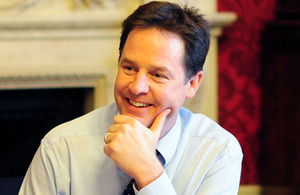 Yesterday the government unveiled details of the resources that would be allocated across government departments until 2015.
During an hour-long Q&A session at George Spencer School hosted by local radio station Heart FM, Mr Cameron and Mr Clegg took queries on topics such as foreign aid, care services and child benefit.
They emphasised the need to get to grips with the UK's deficit to restore economic confidence and growth.
The Deputy PM said:
The fact is you just can't expect our children and our grandchildren to pick up the tabs of our debt because we just simply cannot be bothered or it is too difficult to shift them. That is not fair. So what we are doing, yes, it is controversial now, we are trying to do it as fairly as possible - actually increasing spending on the elderly, on the young, on many people who need help - but we are doing it above all so that things then get better.
Earlier, the PM and Deputy PM had visited Welbeck Primary School where they talked to pupils about their lessons and joined the youngsters for lunch.
Published 21 October 2010