Press release
Plans unveiled to support IP-rich businesses get funding
A report has highlighted the challenges small and medium-sized businesses face when trying to manage and protect their intellectual property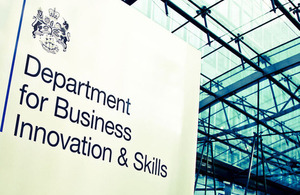 A new report to government has highlighted the challenges small and medium-sized businesses face when trying to manage and protect their intellectual property.
Speaking at the Alliance for Intellectual Property Conference in London today (17 October 2013), Business Secretary Vince Cable welcomed the recommendations from the independent 'Banking on IP?' report commissioned by the Intellectual Property Office which examines the issue of access to finance for IP.
The executive report published today recommends a series of steps including:
creating a toolkit to help SMEs, lenders and other financiers identify, understand and make more effective use of their IP
making it easier for businesses to show what IP they have when looking for funding
developing templates and providing advice which help banks and others understand the cash flow and business value of IP
supporting the development of more accessible and effective IP marketplaces
The full report, to be published shortly, recommends ways to help businesses, particularly SMEs, seek investment from banks to protect and invest in their IP. It also recommends ways to give banks the right information and support to value IP correctly.
Business Secretary Vince Cable said:
Small and medium sized businesses (SMEs) are the lifeblood of the economy. Most of our successful creative businesses are SMEs and we know that Intellectual Property represents a big part of their assets and growth potential. But too often, through risk aversion or banks' conservative lending practices linked to property as security, IP is not catered for by traditional bank lending. Intellectual property is too important an asset to be undervalued by banks who are the main source of finance.

That is why I commissioned a report to explore how we can improve SMEs' access to capital. We will look carefully at its recommendations in order to better support this countries creators and IP-rich businesses.
Minister for Intellectual Property Lord Younger said:
Improving access to finance builds on other existing and exciting initiatives designed to help SMEs. Measures such as the Patent Box are already showing how IP can add to the growth potential of best and brightest businesses. This report will hopefully raise awareness and add to the appreciation of IP, so that we can protect our creative industries and better support a resilient and stable economy.
The executive summary identifies some of the weaknesses in the current system, which rarely caters for IP investment through regular bank lending. It shows that:
IP rights are often under valued as businesses fail to realise the potential of their innovative ideas
IP assets are often confused and not identified properly by businesses and banks
there are too few effective places where businesses can identify, licence and trade in copyright, designs, trademarks and patents
Notes to editors:
1.The Intellectual Property Office (IPO) is within the Department for Business, Innovation, and Skills (BIS) and is responsible for the national framework of Intellectual Property rights, comprising patents, designs, trade marks and copyright.
2.The government is doing a significant amount of work protecting IP rights and supporting investment in intangible assets through a range of other activities, which the Business Secretary outlined in his speech, including:
the creation of a new £2.5 million City of London Police unit dedicated to tackling online piracy and other forms of intellectual property crime such as counterfeit goods. Funded by the Intellectual Property Office, it is one of the first units of its kind in the world, ensuring that the UK stays at the forefront of IP enforcement
a wider educational campaign on piracy and copyright, led by the Intellectual Property Office, which aims to reach four million people this year. With partners including Aardman and UK Music, this is helping young people to understand the significance of the issue and appreciate why illegal downloads are so counterproductive
3.The 'Banking on IP?' report executive summary is available from the IPO website.
4 Internationally traded counterfeited and pirated products are projected to account for between $770 billion and $960 billion globally by 2015 (BASCAP, Global Impacts Study, 2011).
5.The government wants to make the UK the best place to start and grow a business. In the autumn it will launch a public campaign to celebrate GREAT British business success stories. The government wants to inspire other small businesses and point them towards the support that can help them grow. It will also launch a new strategy for how the whole of government will back them. This will set out a range of measures to continue helping budding entrepreneurs and existing businesses succeed.
6.The government's economic policy objective is to achieve 'strong, sustainable and balanced growth that is more evenly shared across the country and between industries'. It set 4 ambitions in the 'Plan for Growth', published at Budget 2011:
to create the most competitive tax system in the G20
to make the UK the best place in Europe to start, finance and grow a business
to encourage investment and exports as a route to a more balanced economy
to create a more educated workforce that is the most flexible in Europe
Work is underway across government to achieve these ambitions, including progress on more than 250 measures as part of the Growth Review. Developing an Industrial Strategy gives new impetus to this work by providing businesses, investors and the public with more clarity about the long-term direction in which the government wants the economy to travel.
Published 17 October 2013