News story
Plans unveiled to boost wi-fi on trains
More than £53 million will be invested so passengers receive seamless mobile broadband connections.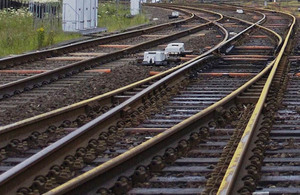 Passengers on commuter trains across England and Wales are set to benefit from radically improved mobile broadband access under new government plans.
Under the proposals, more than £53 million will be invested in fitting out trains with new wi-fi equipment.
This will enable passengers to receive seamless mobile broadband connections, equivalent to speeds and bandwidth available at stations and off the railway, and at least 10 times better than services they currently experience.
Transport Secretary Patrick McLoughlin said:
We all know how frustrating it can be to have our phone calls and internet use constantly disrupted by poor signal while travelling on trains. At the moment it happens too often. Passengers expect and deserve better and with these plans, that is what they'll get.
The work will complement an upgrade currently taking place on Network Rail's trackside infrastructure to ensure that a good signal is available up and down the busiest rail routes.
The funding will be targeted at commuter and metropolitan services, with those likely to benefit including passengers on routes into London from Bedford, Brighton, Kent and Portsmouth as well as services into Manchester, Leeds and Sheffield.
The funding is money that Network Rail has been required to return to the government for missing punctuality targets set by the Office of Rail Regulation. It is the first time the money has been reinvested into improvements targeted at passengers.
Transport Minister Baroness Kramer said:
The coalition government is working hard to build a stronger economy and fairer society. The announcement that we are providing free wi-fi on trains means people can more easily work and keep up with friends while on journeys. As well as the steps we have already taken to make train travel as affordable and efficient as possible we hope free wi-fi will encourage even more people to make the greener choice and travel by train.
Rail media enquiries
Media enquiries 020 7944 3021
Out of hours media enquiries 020 7944 4292
Switchboard 0300 330 3000
Published 7 July 2014