Press release
Plans to open up government to small businesses
Francis Maude has announced a series of measures to make it easier for small and medium sized enterprises to do business with government.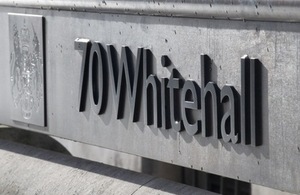 Cabinet Office Minister Francis Maude has announced a series of measures to make it easier for small and medium sized enterprises (SMEs) to do business with government.
Speaking at today's (1 November 2010) Summit for Small Business, which was hosted by the Department for Business, Innovation and Skills, Francis Maude announced a number of steps being taken by the Cabinet Office to help the government achieve its ambition to award 25% of government contracts to SMEs.
The new measures are designed to address head-on the areas that SMEs have consistently highlighted as the biggest barriers to doing business with the public sector. Key measures include plans to:
cut away unnecessary bureaucracy and waste by streamlining the procurement process
improve the transparency of public procurement opportunities
require major suppliers to guarantee subcontractors working on government contracts are paid within 30 days and encourage them to pass these payment terms down supply chains
Mr Maude said:
We believe small businesses and social enterprises have a vital role to play in the growth of the UK economy and often they will be the most flexible, the quickest to respond and the most imaginative. That is why we are committed to making it easier for these organisations to compete for government business. 

Today's package of measures announced by the Cabinet Office will help to remove the barriers many small businesses face and eliminate complexities and waste in the procurement process.  They will also ensure we are on our way to hitting our aspiration that 25% of government contracts go to small and medium enterprises.

Across the sector many major suppliers already signalled their strong support for today's announcement, particularly the measures to ensure the passing on of 30 day payment to subcontractors working on government business.

At the end of the day we're seeking a 'win-win' - more business to SMEs as an engine of the economy and better value for the good of the public purse.
Further measures being introduced by the Cabinet Office include:
the introduction of a standardised core pre-qualification questionnaire (PQQ) across central government. Its use will be made mandatory from December 2010
the investigation of options to enable suppliers to submit standard PQQ data just once to further simplify the process for suppliers
a 'Lean Review' to uncover the causes of delay in the procurement process and to suggest actions to rectify them
the launch of a free 'Contracts Finder system' in March 2011 to help small businesses to find public sector procurement and sub-contracting opportunities in a single place online
a focus on targeting action in those markets where it is known small businesses are prevalent and can offer value for money
the publication of data on central government spend with small businesses in November 2010.
Notes to editors
As set out in the coalition programme, the aspiration is for 25% of government contracts to go to SMEs.
The major suppliers which have already signalled their support for the measures to ensure the passing on of 30 day payment include:
Accenture
Atos Origin
Cable and Wireless
Cap Gemini
Capita
Hewlett Packard
Logica
Siemens IT
Steria
Telereal Trillium
Vodafone
Published 1 November 2010