Plans to let learner drivers have motorway driving lessons revealed
Learner drivers will be allowed to have driving lessons on motorways with a driving instructor in a car fitted with dual controls.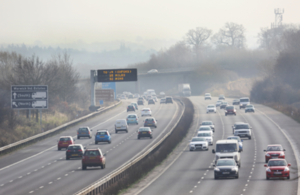 Learner drivers will be able to take driving lessons on motorways before passing their driving test under new plans set out today (30 December 2016) by Transport Minister Andrew Jones.
At the moment, you can only have driving lessons on motorways after you've passed your driving test. Some newly-qualified drivers take lessons through the voluntary Pass Plus scheme.
Voluntary motorway lessons with a qualified instructor
Under the new plans, learner drivers would need to be:
accompanied by an approved driving instructor
driving a car fitted with dual controls
Any motorways lessons would be voluntary. It would be up to the driving instructor to decide when the learner driver is competent enough to have a motorway lesson.
Any change to the law would be well-publicised before coming into effect. Until then, it's still illegal for a learner driver to drive on a motorway.
Driving instructor training and vehicles
The Department for Transport is also asking for views on whether:
the current driving instructor training and testing system gives instructors the skills they need to provide motorway lessons to learner drivers
specially-adapted vehicles must be fitted with dual controls if they're used for motorway lessons
L plate roofboxes on cars must be removed before a motorway lesson
Better prepared for a lifetime of safe driving
Allowing learner drivers to have lessons on motorways will help to make sure more drivers know how to use motorways safely.
The changes will allow learner drivers to:
get broader driving experience before taking their driving test
get training on how to join and leave the motorway, overtake and use lanes correctly
practice driving at higher speeds
put their theoretical knowledge into practice
Right skills and understanding
The proposed changes will help to contribute towards the government's commitment to reduce the number of people killed and seriously injured on our roads, and ensure safer journeys.
Transport Minister, Andrew Jones, said:
We have some of the safest roads in the world and we want to make them even safer.

These changes will equip learners with a wider range of experience and greater skill set which will improve safety levels on our roads.
RAC Foundation Director, Steve Gooding, said:
The casualty statistics tell us that motorways are our safest roads, but they can feel anything but safe to a newly qualified driver heading down the slip road for the first time to join a fast moving, often heavy, flow of traffic.

Many are so intimidated by the motorway environment that they choose instead to use statistically more dangerous roads, so we welcome this move which will help new drivers get the training they need to use motorways safely.
Published 30 December 2016