Plans to end the cover-up culture in the NHS
Health Secretary will announce plans to improve NHS safety and transparency at the first ministerial-level Global Patient Safety Summit.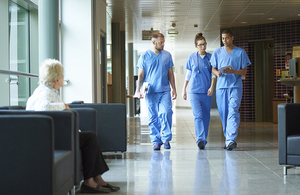 The 2-day summit (on 9 and 10 March 2016) brings together health ministers, senior delegates and expert clinicians from across the world including Margaret Chan, Director General of the World Health Organisation.
Speaking at the summit, Jeremy Hunt will describe a range of new measures including an independent Healthcare Safety Investigation Branch and legal protection for anyone giving information following a hospital mistake.
Legal 'safe spaces' will mean those co-operating with investigations will be supported and protected to speak up to help bring new openness to the NHS's response to tragic mistakes. Families will be told the full truth more quickly and the NHS will become better at learning when things go wrong and acting upon it.
Jeremy Hunt will also announce that, from April 2018, expert medical examiners will independently review and confirm the cause of all deaths. This was originally recommended by the Shipman Inquiry, and subsequently by Robert Francis following the events of Mid Staffs. If any death needs to be investigated and if there is cause for concern, appropriate action will be taken.
The current system has remained largely unchanged for over 50 years and leads to significant variations in the number of deaths that are investigated. The changes announced by the Health Secretary will reassure the public that if things go wrong, the causes will be identified and investigated.
Health Secretary Jeremy Hunt said:
A huge amount of progress has been made in improving our safety culture following the tragic events at Mid Staffs but to deliver a safer NHS for patients, 7 days a week, we need to unshackle ourselves from a quick-fix blame culture and acknowledge that sometimes bad mistakes can be made by good people.

It is a scandal that every week there are potentially 150 avoidable deaths in our hospitals and it is up to us all to make the need for whistleblowing and secrecy a thing of the past as we reform the NHS and its values and move from blaming to learning.

Today we take a step forward to building a new era of openness and the safest healthcare system in the world.
Learning from mistakes league
As part of the new measures, NHS Improvement will publish the first annual 'Learning from mistakes league' to identify the level of openness and transparency in NHS provider organisations for the first time.
This year's league shows that 120 organisations were rated as outstanding or good, 78 had significant concerns and 32 had a poor reporting culture.
As part of his plan for a safer NHS, 7 days a week, the Health Secretary will also announce:
changes to General Medical Council and Nursing and Midwifery Council guidance so that when NHS staff are honest about mistakes and apologise, a professional tribunal gives them credit for that, just as failing to do so is likely to incur a serious sanction
NHS Improvement will ask all trusts to publish a charter for openness and transparency so staff have clear expectations of how they will be treated if they witness clinical errors
NHS England will work with the Royal College of Physicians to develop a standardised method for reviewing the records of patients who have died in hospital
England will become the first country in the world to publish estimates by every hospital trust of their own – non-comparable – avoidable mortality rates
James Titcombe, Morecambe Bay parent and National Adviser on Patient Safety, Culture and Quality, said:
Time and time again, we hear the promise that 'lessons will be learned' following reports about systemic failures and individual stories of avoidable harm and loss in the NHS. Yet, far too often, the same mistakes are repeated and meaningful learning and lasting change simply doesn't happen.

These announcements are about saying 'never again' - the measures announced are major steps that will help move the NHS towards the kind of true learning culture that other high risk industries take for granted.
Martin Bromiley, chair of the Clinical Human Factors Group, said:
These measures are the first step of a critical journey. We mustn't tolerate gross negligence or willful acts, but likewise we need to recognise that the vast majority of clinicians come to work to do their very best, yet often are prevented from doing so by the very system they work within.
Published 9 March 2016
Last updated 9 March 2016
+ show all updates
Added Learning from mistakes league

First published.