Planning Portal hits the million application mark
The one millionth planning application has been processed by the Government's planning resource website, a site that has now delivered savings…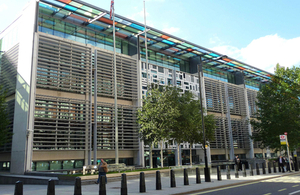 The one millionth planning application has been processed by the Government's planning resource website, a site that has now delivered savings of approximately £285 million to applicants and councils, Planning Minister Bob Neill announced today.
Nearly 60 per cent of all planning applications in England and Wales are now submitted electronically via the Planning Portal, bringing greater efficiency to the planning process for councils who assess and determine applications, and applicants.
Cutting down the number of paper applications has also made a major contribution to reducing the carbon footprint of the planning process by cutting out more than 8,000 tonnes of Co2 from the 32 million pieces of paper that have been saved. This paper:
if stacked up would be more than four times higher than the world's tallest building, the Burj Khalifa in Dubai, or the same height as seven Empire State Buildings with Canary Wharf on top
would weigh more than 150 tons, the weight of 21 Double Decker buses plus a camper van
would be enough to cover an area the size of West Sussex
would create a paper path 5,905 miles along that could stretch from London to Osaka in Japan.
The millionth application was submitted by a householder and will now be processed by Hinckley and Bosworth Borough Council.
Communities Minister Bob Neill said:
We are streamlining the planning system, cutting bureaucracy and simplifying the rules to make the whole planning process much more accessible and efficient for both applicants and councils. An important part of this is ensuring we have a swift, robust application process for all people to use easily.

The benefits of using the Planning Portal are clear to see especially with the savings it is delivering on a regular basis. I'm delighted the Portal has reached this very significant, one million milestone.
Planning Portal director Chris Kendall said:
We are delighted and very proud to reach such a significant milestone in greener and more efficient planning in such a short period of time. We're now targeting ways of making online planning even easier and more user-friendly. We couldn't have reached this point without the support of our partners in local planning authorities and the willingness of industry to embrace new ways of working.
The Planning Portal, part of the Department for Communities and Local Government, processed its first application in April 2003 and since then has consistently hit tough targets to increase the proportion of planning applications made online.
As well as creating and maintaining the online planning application service, the multi-award winning Planning Portal offers planning and building regulations information, advice and services for the public, planning-related professionals and government.
Notes to the editors
1. Applicants support findings by KPMG that report savings of a minimum of £120 per application by submitting online. Savings are many times more for larger or more complex applications. Many local authorities, including Doncaster, Kirklees and others, are increasing online working to save staff time and resources.
2. The Planning Portal records nearly 900,000 visits and almost 9,000,000 page views a month (Jan 2012).
3. For more information on the Planning portal go to www.planningportal.gov.uk (external link).
Twitter
Keep up to date with the Department by following us on Twitter (external link).
Media enquiries
Visit our newsroom contacts page for media enquiry contact details.
Published 21 February 2012