Planning permission powers firmly in the hands of communities
New Right to Build cuts the red tape to get projects off the ground A radical new Right to Build will today put the power to grant planning…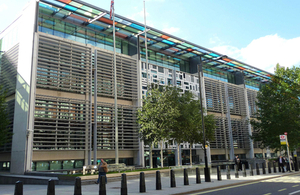 New Right to Build cuts the red tape to get projects off the ground
A radical new Right to Build will today put the power to grant planning permission firmly in the hands of communities, Housing Minister Grant Shapps will say today.
The Minister will make £17million available to help local people get their building projects off the drawing board - with an 'early bird bonus' for those that move quickly and get their plans in early.
And a new support hub launched today will offer the help and advice they need.
Control in the hands of communities
Under the new Community Right to Build, communities will be able to approve new local developments without the need to go through the normal planning application process.
As long as the proposals meet certain criteria and there is the backing of more than 50 per cent of voters in a local referendum, these projects will get the go-ahead.
The Right to Build can be used for whatever communities need to make their neighbourhoods prosper and can include:
family houses to sell or rent
community halls
homes designed specifically to meet the needs of older people
children playgrounds; and
shops and business facilities
Grant Shapps will today offer a share of £17million to areas looking to start their own building projects.
The Minister will also pledge an 'early bird bonus' of up to £2,000 to those that move quickly and get their plans in by the end of March next year.
And for those looking for advice and support, community charity Locality will launch a new website, phone line, seminars and detailed one-to-one mentoring for those looking to use their Right to Build.
Grant Shapps said:
For too long communities have had to use their energy fighting development they didn't want rather then putting it to use bringing about the homes, shops and facilities they did. The Community Right to Build completely changes that and puts communities in the driving seat by ensuring they can bring about the development their neighbourhood needs.

The funding and advice service being offered will provide a big boost to those communities eager to take up their Right and bring about change to their area. I would urge all communities to make use of this support to ensure they have the best chance to thrive in the future.
Chief executive of Locality, Steve Wyler, said:
Locality fought hard to shape the Localism Act. We believe in self-reliance and community ownership. The new Community Right to Build presents incredible opportunities for people to have a greater stake in their area. If you can see the potential of new buildings for community benefit we're here to help, support you through the process and make things happen, enhancing local pride and prosperity.
The fund will be run by the Homes and Communities Agency.
Chief executive of the agency, Pat Ritchie, said:
The Community Right to Build is an innovative new way of empowering local communities, enabling them to play a more active role in shaping their area according to their needs and aspirations.

The funding will support those local groups who want to take forward locally-backed development which will ultimately benefit the whole of their community.
Notes to editors
Application guidance and full details of how to apply for support funding can be found on the Homes and Communities Agency website at: www.homesandcommunities.co.uk/community-right-to-build (external link).

The advice service run by Locality is available to all communities. Further details can be found at www.mycommunityrights.org.uk/community-right-to-build (external link).

The £17million fund will be available over the next three years (2012 to 2015). The funding is not intended to cover the cost of building, land acquisition or other costs associated with the development itself. The funding is available to communities through England with the exception of London. Separate arrangements for London will be announced shortly.

The Locality-led advice support programme, run in partnership with Urban Forum and HACT, is being funded by the Department for Communities and Local Government for three-years.

The Community Right to Build forms part of the neighbourhood planning provisions contained in the Localism Act 2011 and became law on 6 April 2012 as part of the Neighbourhood Planning (General) Regulations.

In order to use the Right members of the community will need to set themselves up as a corporate body with the purpose of furthering the interests of the local community.

Once established the community organisation will have to have their development proposal independently examined and have agreement from more than 50 per cent of people voting in a community referendum.

The funding must be used towards the costs of preparing a submission for a Community Right to Build Order - a new route for obtaining planning permission. This could include consulting in the local area or developing the proposal and business case for a community-led scheme.
Published 29 May 2012