Press release
Places for National Citizen Service autumn roll-out
Places are being announced all over England and Northern Ireland for young people to take part in National Citizen Service (NCS).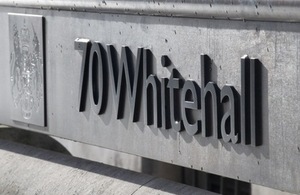 24 September 2012
CAB 101-12 
Places are being announced all over England and Northern Ireland for young people to take part in National Citizen Service (NCS), starting in the October half-term holiday, Minister for Civil Society Nick Hurd announced today.
Previously, NCS has only run in the summer holidays, but following the success of this year's programme the Government is looking for ways to offer it all year round for every 16- and 17-year-old. For the first time, NCS will also take place in Northern Ireland for 15- and 16 -year-olds.
NCS offers 16- and 17-year-olds from different backgrounds valuable life experience by putting them into teams away from home and setting them the task of finding solutions to local problems or issues that matter to them.  It also enables them to develop important skills that they can take with them into the world of work.
This summer, young people have already committed nearly three-quarters of a million hours of volunteering, making a hugely positive impact in communities across the UK.
Minister for Civil Society Nick Hurd said:
I met many young people doing NCS this summer and was really impressed by their enthusiasm, confidence and drive to make a positive difference to their community whilst having great fun. I'm delighted to announce that we have more places available. My message to young people is that if you have missed out on NCS this summer sign up now for a place this autumn.
NCS autumn will also see a new final weekend of further adventure away from home. The young people will go through a challenging scenario-based weekend, taking part in their teams and meeting fellow NCS participants from around the country to share experiences and tackle new activities.
Early findings from last year's scheme show that it was a success, with nine out of ten young people saying that they would recommend it to a friend, and more young people planning to stay on in education after taking part.
Ministers are keen that all young people, regardless of their background, have the opportunity to take part. Their aim is for the programme to give 16- and 17-year-olds a shared common experience and to create a generation of 'work-ready', well-rounded young people with raised aspirations and greater opportunities in the job market.
Notes to editors
1. National Citizen Service (NCS) is a life-changing experience for 16- and-17-year-olds. They get the chance to do outdoor activities, meet new people and put something back into their community. By taking part they learn new skills and have a great experience they can put on their CVs or college applications. This year sees the first trial of an autumn programme. This kicks off in the October half-term holiday, followed by days of activity over the next six weekends.
2. This year up to 30,000 places have been made available and the long-term aim is for NCS to be available to every 16-year-old.
3. NCS brings young people together from different backgrounds (e.g. religious, ethnic and socio-economic) to work together, and teaches them what it means to be responsible and serve their communities. It promotes:
a more cohesive society by mixing participants from different backgrounds;
a more responsible society by supporting young people's transition into adulthood; and
a more engaged society by enabling young people to work together to create social action projects in their local communities.
4. For more information about NCS go to www.facebook.com/ncs or www.direct.gov.uk/ncs
5. To view the 2011 evaluation please go to www.natcen.ac.uk/study/national-citizen-service-evaluation
Published 24 September 2012