Press release
Pioneering research could pave way for more sustainable palm oil
A radical research programme to map how the UK uses imported palm oil could halt the loss of rainforest thousands of miles away.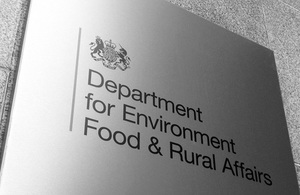 Palm oil is a cheap 'miracle product' used in food, cosmetics, animal feed, tyres and biodiesel. But the expansion of plantations in South East Asia is wiping out forests, driving up greenhouse emissions and threatening wildlife such as the orang-utan.
The oil can be grown sustainably without damaging forests and wildlife, and the research project will for the first time examine how palm oil is used by consumers in the UK. It will document how much we use, how much of that is sustainably sourced, and consider how changes can be made to lessen environmental damage.
The plans are announced today [Tuesday 13th July] by Environment Secretary Caroline Spelman at the First Global Business of Biodiversity (GBOB) Symposium in London, where business leaders and experts from around the world are gathering.
Environment Secretary Caroline Spelman said: "Consumers and industry have the power to save rainforests and wildlife in areas like South East Asia. But, in the case of palm oil, we need to know more about our consumption in order to find solutions. We're hoping to get these answers with the project starting next month which will map our use of palm oil.
'This coalition is striving to be the greenest government ever. That means considering our impact abroad as well as at home.'
At the GBOB, the UK and Dutch governments have also convened a business to business leader's meeting to discuss how to mainstream sustainable palm oil. This presents a rare opportunity for business leaders from right across the supply chain and the globe to meet on this issue. Industry players including M&S and Shell through to palm oil producers from Indonesia and Malaysia, are due to take part.
Work on the research project is due to begin next month, with the initial findings announced early next year.
Also starting in July, under the Defra partnership with China on sustainable development, is a project working with the Chinese Chamber of Commerce to develop the 'business case' for sourcing sustainable palm oil for Chinese companies and to draw up options for the Chinese Government to encourage sustainable sourcing. China is the world's largest country consumer of palm oil.
Notes
Bids for the research project have been received and are in the final stages of consideration. A decision on a contractor is due to be made next week.
The Roundtable on Sustainable Palm Oil (RSPO)** **is an independent global initiative set up to promote sustainable palm oil through co-operation within the supply chain. It has more than 400 members including Sainsbury's, Unilever, Tesco and other UK-based businesses. It has set up a certification scheme for 'sustainable palm oil' which is now available on the market. Around 4% of global supply is certified sustainable.
Some facts on palm oil:
80% of palm oil is used for food. It is used in 1 in 10 supermarket products.
Malaysia and Indonesia account for around 90% of the world's supply.
In just one province of Indonesia (Kalimantan), the planned expansion into peatland areas could eventually (over 30 yrs) release up to 1200 million tonnes CO2 - almost twice the UK's total annual emissions.
World demand for palm oil is forecast to nearly double from 2000 levels by 2020. This is mainly due to rising food demand, but also due to demand for biofuels, including to meet EU renewable transport fuels targets.
China is the world's largest market for palm oil, followed by the EU and India.
Published 13 July 2010