Pioneering national poetry competition to inspire teens
Pupils will be encouraged to learn poems by heart by taking part in a new national competition.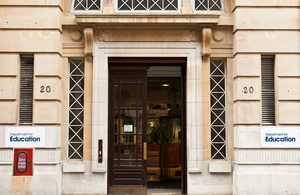 A new national poetry recitation competition will be launched in schools and colleges next year, Education Secretary Michael Gove and former Poet Laureate Sir Andrew Motion announced today.
The Poetry Archive's competition, 'Poetry by Heart', will see thousands of students aged 14 to 18 competing to become national champion for their skill in memorising and performing poems.
Students will choose poems from an anthology of classic and contemporary poetry specially selected for the competition. These will include 'Dover Beach' by Matthew Arnold, 'Ozymandias' by Percy Bysshe Shelley, and Shakespeare's clown song from Twelfth Night - 'When that I was and a little tiny boy'.
The Department for Education is providing £500,000 of funding to The Poetry Archive to develop and run the National Poetry Competition as part of its commitment to help bring poetry to life in schools. The competition aims to develop and support inspiring poetry teaching in schools and to motivate pupils and teachers to explore England's rich literary heritage.
Education Secretary Michael Gove said:
To know a poem by heart is to own a great work of art forever. Andrew Motion is a hero for ensuring more children than ever will carry poetry with them all their lives.
Sir Andrew Motion, former Poet Laureate, said:
Poetry by Heart is the best thing that's happened for poetry in schools for a long time: a way for pupils to have serious fun while they extend their reading, deepen their powers of appreciation, and memorise beautiful and intriguing poems which will enrich their lives for ever.
James Ashmore, Director of Learning in English at Moor End Academy in Huddersfield, said:
Poetry by Heart is an excellent idea. Schools across England buzz every day with opportunities and activities they provide for students above and beyond the curriculum, but a national competition, backed by some of the country's great poets, would be an excellent, unifying initiative.
Launching in schools and colleges in January 2013, the aims of the competition are to:
Promote understanding of poetry as a dynamic art form and enable pupils to develop self-confidence and creative understanding.
Give teachers the opportunity to extend and develop their teaching of poetry, and give them a new method of promoting skills of memorisation and performance.
Offer pupils an opportunity to extend and enrich their knowledge of poetry, both pre-1914 and post-1914.
The final stage of the competition will be a 'finals weekend' based on regional heats, which will lead to a grand final held at the National Portrait Gallery in April 2013.
Prizes will be awarded to winners, runners-up and their schools. There will also be a national winner's trophy for the most outstanding young competitor.
Notes to editors
Poetry By Heart is an educational initiative of The Poetry Archive. The Poetry Archive is the world's premier online collection of recordings of poets reading their own work.

Sir Andrew Motion is UK poet laureate between 1999 to 2009, and co-founder and Director of the Poetry Archive.

The full anthology of poems will be announced next month when schools launch their individual competitions.
DfE enquiries
Central newsdesk - for journalists 020 7783 8300
General enquiries - for members of the public 0370 000 2288
Website: www.education.gov.uk/help/contactus
Published 6 December 2012