Press release
Pickles pushes local people to the front of the queue for council homes
Hard-working local people to be given priority.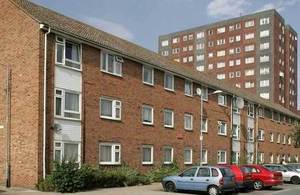 Fairness is returning to the system for allocating council homes, Communities Secretary Eric Pickles announced today (31 December 2013).
New statutory guidance published today will ensure people with a long-standing connection to their local community are prioritised for council homes.
The guidance makes clear that only hard-working families, with a well-established residency, relatives or a job in the local area can go on their council's waiting list, so they are the first benefit when homes become available.
To reassure local people that they are being treated fairly, councils are encouraged to publish information about who is applying for and getting social housing in their area.
Mr Pickles said the government is determined to restore fairness to a system that many people believe is often skewed against the local people it is designed to support.
As a result of lax immigration controls in the past, 1 in 6 of all social housing tenants in London are now foreigners, and across England, 1 in 10 of all new tenants are foreign nationals.
The new guidance will confirm that members of the Armed Forces, who are often unable to settle in one area for a long time, are considered a priority for housing.
Mr Pickles said today's move will end years of confusion and anger in local communities about the way council housing is allocated.
Communities Secretary Eric Pickles:
For years hard-working families have watched helplessly as local council homes go to people without jobs or any connection to the local area.

We're calling time on this blatant unfairness. That's why we've published guidance that will ensure local people and members of the Armed Forces are made the top priority for council homes in their community.

It's part of a package of reforms to tackle unsustainable immigration, which will also ensure councils are completely transparent about who they have given social homes to, so those people who make a valuable contribution to their community can be confident they are not losing out.
Further Information
View the guidance in full.
The guidance ensures councils require people to have lived in the area for at least 2 years. Only those who pass this test will be accepted onto the waiting list in their local area - and then be considered for social housing.
The government has put protections in place through secondary legislation that ensure members of the Armed Forces families are not disqualified from social housing through a local connection or a residency test.
Guidance on recording social lettings was published on 14 October in the document Provisions of social lettings data: advice to local authorities.
This document sets out the importance of providing good quality data on the characteristics of tenants taking up social housing through the department's Continuous Recording system, and provides some advice to local authorities to help them in achieving this. This data is reported back to government.
Published 31 December 2013