Pickles and Shapps announce HIPs are history
Eric Pickles and Grant Shapps have announced that, with immediate effect, Home Information Packs are suspended.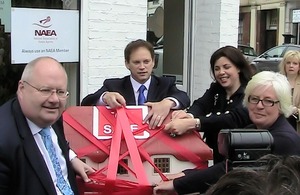 'Location, Location, Location' presenter Kirstie Allsopp joined Mr Pickles and Mr Shapps on a visit to an estate agents in Battersea, London today to hear how the suspension of Home Information Packs will help the fragile housing market.
Watch a video on the suspension of Home Information Packs
Video transcript (MS Word Document, 25KB)
Less cost and less hassle
Mr Pickles said that the suspension will show those thinking of selling their home that they can put it on the market with less cost and less hassle.
Home Information Packs will no longer hold back the housing market by forcing sellers to fork out extra cash, sometimes hundreds of pounds, just to be able to put their home up for sale.
Mr Pickles and Mr Shapps also confirmed that in order to help people reduce their energy bills and tackle climate change, sellers will still be required to produce an Energy Performance Certificate when they sell their home.
Eric Pickles said:
The expensive and unnecessary Home Information Pack has increased the cost and hassle of selling homes and is stifling a fragile housing market.

HIPs are history. This action will encourage sellers back into the market, and help the market as a whole and the economy recover.
Housing Minister Grant Shapps said:
This is a great example of how this new government is getting straight down to work by cutting away pointless red-tape that is strangling the market.

Rather than shelling out hundreds of pounds for nothing in return we're stripping away bureaucracy and letting home owners sell their properties.
Kirsty Allsop said:
I work with people buying and selling their houses every day and I've seen genuine unhappiness. Today's the day that HIPs are gone. You will not have to pay £250, or £350 plus VAT, for a piece of paper that no one will look at and will not reduce your lawyer's fees.
Impact of Home Information Packs suspension
Following on from the Secretary of State Eric Pickles' and Housing Minister Grant Shapps' suspension of Home Information Packs, Estate Agents have suggested an increase in housing market activity.
More photographs of the event are available from the DCLG Flickr channel
Published 20 May 2010