News story
Philippines typhoon travel health advice
Public Health England's advice for travellers following Typhoon Haiyan.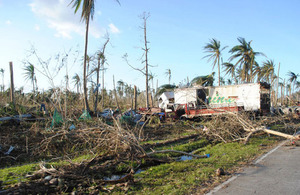 Typhoon Haiyan (Yolanda) made landfall in the central part of the Philippines on 8 November 2013. The extreme wind speeds and surges of deep water have affected 39 provinces in nine regions (Bicol, Calabazon, Caraga, Central Visayas, Davao, Eastern Visayas, Mimeropa, Northern Mindanao and Western Visayas).
The worst affected provinces are reported to be Eastern Samar, Leyte, Oriental Mindoro, Masbate, Sorsogon, Negros, Capiz, Romblon and Busuanga in Palawan. There are many thousands of casualties and deaths reported especially in the city of Tacloban, Leyte province. An estimated 11.8 million people have been affected by this disaster and over 900,000 people displaced from their homes.
Dr Brian McCloskey, Director of Global Health for Public Health England (PHE) said:
The health risks are very high with this scale of disaster, running the risk of outbreaks of infectious diseases without clean water, sanitation and shelter. PHE has sent senior health specialists to work alongside the World Health Organization (WHO) in the region and make sure the appropriate systems are in place to detect and manage infectious diseases.

While we understand people's desire to help, PHE would strongly urge people who are considering travelling to the Philippines to assist with the relief effort, or for other purposes, to consult the Foreign and Commonwealth Office for up-to-date travel safety advice. Travelling to an affected area independently and without adequate preparation may put a strain on the already challenged emergency and medical services in the area. Those wishing to provide assistance in areas affected by natural disasters should contact appropriate aid and charity agencies for guidance on how best they can help.
PHE are working closely with Evidence Aid, following the devastation caused by Typhoon Haiyan in the Philippines, to compile evidence-based resources that may help the community.
Notes to editors
Public Health England's mission is to protect and improve the nation's health and to address inequalities through working with national and local government, the NHS, industry and the voluntary and community sector. PHE is an operationally autonomous executive agency of the Department of Health.
Infections press office
PHE press office, infections
61 Colindale Avenue
London
NW9 5EQ
Photo by Arlynn Aquino EU/ECHO, Leyte, Philippines, November 2013, on Flickr. Used under Creative Commons.
Published 15 November 2013
Last updated 15 November 2013
+ show all updates
Added links to current PHE advice documents, and information about Evidence Aid.
First published.