News story
PHE staff awarded Queen's Birthday honours
Public Health England (PHE) staff have been recognised in the Queen's Birthday honours list.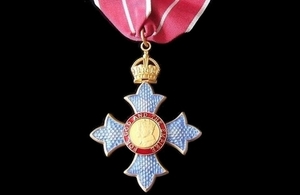 The Queen's Birthday honours lists, published today (10 June 2016), recognises the achievements of 3 PHE staff in protecting and improving the public's health, both nationally and internationally.
Professor Yvonne Doyle, Regional Director for London, has been awarded a CB. Yvonne is an exemplary public health leader and has made a career-long, very significant contribution to the health of Londoners. She has ensured public health concerns such as tobacco control, obesity, Tuberculosis and health inequalities have been prioritised and acted upon, and has acted as a role model for the profession. Yvonne is a member of the London Health Board, chaired by the Mayor of London.
Pauline Watts, National Lead Nurse for Quality, Mental Health, Learning Disability and Dementia, has been awarded an OBE in recognition of her significant contribution to nursing services and health visiting. Pauline supported the delivery of the national health visiting programme 'A Call to Action' and to the nursing framework 'Modernising Nursing Careers'. She worked with UNICEF on developing home visiting standards and practice in Eastern European Countries.
Mark Rush, who recently joined PHE on secondment from the FCO, was also awarded an MBE for his services to global health.
Duncan Selbie, Chief Executive of PHE said:
I would like to warmly congratulate Yvonne, Pauline and Mark for this recognition of their outstanding contribution to improving public health both at home and abroad.
Published 10 June 2016