News story
PHE staff awarded New Year's honours
Public Health England (PHE) staff have been recognised in the Queen's New Year's honours lists.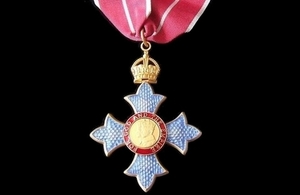 The New Year's honours lists, published on 30 December 2015, recognise the achievements of a number of PHE staff in protecting and improving the public's health, both nationally and internationally.
Professor Paul Cosford (CB), Director for Health Protection and Medical Director, led PHE's contribution to the international response to the Ebola crisis both in West Africa and at home in the UK. He has led several other highly successful public health interventions ranging from the MMR catch-up campaign, the public health response to flooding in the west country in 2014 and the investigations into the outbreak of bacillus cereus infection in neonates due to contaminated intravenous feeds.
Professor Viv Bennett (CBE), PHE's Chief Nurse and formerly Director of Nursing at the Department of Health (DH), has been recognised for her services to nursing and her work as the government's principal advisor on public health nursing and midwifery.
Dr Tim Brooks (CBE), who directs PHE's Rare and Imported Pathogens Laboratory (RIPL), led the UK laboratory response to Sierra Leone, the largest ever deployment to an infectious disease outbreak, establishing and opening in record time 3 modern diagnostic laboratories in the field at Kerry Town, Port Loko and Makeni. This undoubtedly saved many lives and contributed to the eventual control of the in Ebola outbreak by allowing proven cases to be isolated and treated. Back in the UK, the national Imported Fever Service, a partnership established by Tim and his team with the London and Liverpool Tropical Disease Units, evaluated over 460 travellers for possible Ebola, of whom 300 were directly tested by RIPL or satellite centres established in London, Edinburgh and Newcastle.
Neil Bentley (OBE), Head of PHE's Microbiology Technical Services, has worked within the field of public health microbiology for over 30 years and has worked endlessly to provide a modern patient focused public health laboratory service across the network. Recently Neil spent over 4 months in Sierra Leone managing the logistics of establishing and running the PHE diagnostic laboratories. Putting himself at significant personal risk, he travelled extensively to often remote locations at community Ebola holding and treatment centres to train and educate people on sample collection, transport and result reporting, ensuring accurate and rapid testing.
Dr Jenny Harries (OBE), PHE's Director for the South of England, led PHE's rapid response to the Prime Minister's request to maintain Ebola screening at the main UK ports of entry throughout the Ebola outbreak in West Africa. The screening service identified, advised and monitored passengers who may have been at risk of infection, providing reassurance and protecting the public's health. Working with UK Border Force, the NHS, international public health professionals and other partners, Jenny delivered a core part of the UK's resilience for Ebola. More than 14,000 passengers were provided with a disease risk assessment and information on rapid safe access to health services and all returning workers from affected areas were monitored for 21 days in the community to ensure they remained well. Her work with international partners continues to ensure excellent practical resilience capability to new and emerging disease in the UK.
Eric Rooney (MBE), Consultant in Dental Public Health, has been recognised for his services to dentistry. Eric has wide experience of dental policy development, initially through the British Dental Association in the 1990's and since 2002 directly with the Department of Health, leading for NHS Employers the successful negotiation of a new national contract for salaried dentists. In November 2015, Eric was appointed Deputy Chief Dental Officer for NHS England, a role he combines with his post of Consultant in Dental Public Health in the PHE, Northwest Centre.
Duncan Selbie, Chief Executive of PHE said:
I warmly congratulate Paul, Neil, Viv, Jenny, Eric and Tim for this recognition of their outstanding contribution to protecting and improving the public's health, both at home in the UK and abroad.
Published 31 December 2015