Press release
PHE reminds young Londoners to practice safe sex
A report released today (15 September 2016) shows young Londoners count for a high number of Sexually Transmitted Infections (STIs).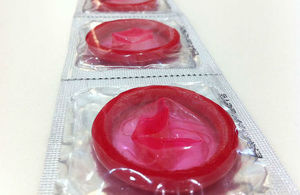 In 2015 those aged 15 to 24 living in the capital made up 36% of all new STI diagnoses; with gonorrhoea, chlamydia, genital warts, genital herpes and syphilis all being diagnosed.
In association with the Family Planning Association's (FPA) Sexual Health Week (12 to 18 September), which this year focuses on STIs, Public Health England (PHE) London is raising awareness of STIs among young Londoners and reminding them of the importance of practicing safe sex.
From 2011 to 2015 new diagnoses of syphilis and gonorrhoea in 15 to 24 year olds in London increased by 128% and 61% respectively. Genital herpes also rose by 4%. Overall the number of new STIs fell from 44,283 in 2011 to 42,457 (4%) in 2015.
Cases of chlamydia, the most common STI, have fallen between 2011 and 2015 from 24,017 to 22,891 (5%), however this is likely to represent a decrease in people coming forward for testing. The decrease in numbers of chlamydia diagnoses also accounts for the overall decrease in new STIs among this group.
Chlamydia detection rates among 15 to 24 year olds differ across London, and this largely reflects varying rates of testing. Diagnosing and treating STIs is vital in reducing the burden of poor sexual health in London. Providers across the capital must focus on effectively promoting sexual health services to young people along with working to prevent infections in the first place.
To reduce the number of STIs, it is important that young Londoners are familiar with the PHE recommendations for safe sexual health. These include annual STI screening and on change of sexual partner, as well as the need for re-testing after a positive chlamydia diagnosis (within 3 months of initial diagnosis).
Dr Yvonne Doyle, regional director for PHE London, said:
These figures show that too many young people in London are continuing to have unsafe sex, putting themselves at unnecessary risk of contracting STIs.

Young Londoners are one of the groups we know are at increased risk of experiencing poor sexual health, along with men who have sex with men (MSM) and black ethnic minorities.

Young people tend to have more sexual partners and are more likely to have unsafe sex. These factors mean they are at increased risk of contracting STIs and becoming re-infected.

Working closely with young Londoners and other at risk groups is vital to deliver effective public health interventions and improve their sexual health outcomes.
To mark this year's Sexual Health Week, FPA surveyed more than 2,000 people across the UK to find out what they know and think about safe sex and STI testing. Among 16 to 24 year olds who have been sexually active, they found:
47% said they had never had an STI test
more than one-quarter (28%) said buying condoms can be embarrassing
only one-third (32%) said they learnt how to confidently talk to a partner about using condoms during their sex and relationships education
Dr Doyle added:
The survey results published today by FPA looking at the attitudes of 16-24 year olds provides excellent insight into their behaviour and potential barriers for them engaging with sexual health services.

Young people reported being more worried about going for a sexual health check, with both embarrassment and the fear of people finding out being of particular concern. In London we have excellent, confidential, open access sexual health services which provide free provision of contraception and STI testing and treatment. These services also provide notification for the sexual partners of those diagnosed with an STI, which may be another concern for people diagnosed with an STI.
FPA's Chief Executive, Natika H Halil, said:
It is really important that young people are given the information and support they need, especially as our survey showed that they are more likely than older age groups to feel embarrassed or worry about their sexual health.

One huge problem is we still don't have statutory sex and relationships education, which means many young people are not given the opportunity to develop skills which can help them safely navigate sexual relationships.

Sexual Health Week is all about raising awareness so that young people can make informed choices about their sexual health and wellbeing, and also signposting the many places that they can get help when they need it.
Dr Patrick French, a sexual health specialist and genitourinary medicine consultant at The Mortimer Market Centre, Central and North West London NHS Foundation Trust, said:
Today's report highlights that too many young people in London continue to be disproportionately affected by STIs.

To reduce infections among this at-risk group access to good quality preventative, testing and treatment services is vital. They must also be welcoming and open to overcome any worries or embarrassment young age people might have about going to clinic.

I still regularly see young people in clinic with newly diagnosed STIs, who struggled to find the right service for testing and treatment. Developing and strengthening easily accessible sexual health services for young people in London must be a priority.
Worsening sexual health remains one of the biggest public health concerns facing London, which is why it is a priority area PHE London. By working closely with partners across the healthcare system, PHE aims to reduce the burden of poor sexual health in the capital.
PHE recommendations for safe sex include:
focusing prevention on groups at highest risk, including:

young adults
men who have sex with men
black ethnic minorities

consistent and correct use of condoms can significantly reduce risk of infection
regular testing for HIV and STIs is essential for good sexual health
anyone sexually active under 25 should be screened for chlamydia annually, and on change of sexual partner
men who have sex with men should test annually for HIV and STIs and every 3 months if having condomless sex with new or casual partners
Background
Public Health England exists to protect and improve the nation's health and wellbeing, and reduce health inequalities. It does this through world-class science, knowledge and intelligence, advocacy, partnerships and the delivery of specialist public health services. PHE is an operationally autonomous executive agency of the Department of Health. Follow us on Twitter: @PHE_uk and Facebook: www.facebook.com/PublicHealthEngland.
Annual epidemiological spotlight on STIs in London (2015 data) is available online.
The PHE Public Health Outcomes Framework (PHOF) recommends that local areas work towards a chlamydia detection rate of at least 2,300 per 100,000 15 to 24 year olds.
Find the full FPA survey online.
You can view local data on sexual health through PHE's Sexual Reproductive Health Profiles.
PHE published annual data on STI diagnoses in July 2016.
PHE recently published a report looking at Syphilis epidemiology in London.
You can find PHE Annual epidemiological spotlight on HIV in London: 2014 data online.
See
.
Press office
Email phe-pressoffice@phe.gov.uk
Contact form https://www.gov.uk/gov...
Corporate and health and wellbeing press office 020 7654 8400
Infectious diseases press office 020 8327 7901
Chemicals, radiation and environmental hazards press office 01235 825 405/406
Out of hours 020 8200 4400
Only for use by journalists and the media
Published 15 September 2016