News story
PHE Neurology briefing provides CCGs with new resources to improve provision of care
Public Health England (PHE) publishes first data briefing on neurology outpatient services in England.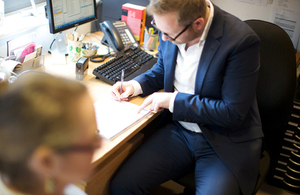 The PHE Neurology Intelligence Network (NIN) has published a new intelligence briefing which provides insight into neurological outpatient activity in England, with a particular focus on the provision of local CCG services.
The briefing targets clinicians and commissioners to support and inform local commissioning priorities, help drive improvements, and effectively manage demand for neurological care.
It presents the possible reasons why variation in local service provision may have occurred, including differences between local areas in prevalence of neurological conditions, capacity for assessing those with neurological problems, and the use of alternative assessment pathways.
The briefing has been published alongside a suite of data tables.
John Newton, Chief Knowledge Officer at Public Health England said:
People with neurological issues need access to timely and effective services. Helping commissioning teams understand the demand for services and raising awareness of what is happening in their area is essential to ensure services are appropriately commissioned and able to provide timely, long term care.

We hope this report will open up debate locally and encourage teams to take a closer look at local provision and make improvements where they are needed.
Published 27 August 2015