Press release
PHE leading initiatives on surveillance and the evaluation of antibiotics
Public Health England (PHE) welcomes the second report from the Review on Antimicrobial Resistance.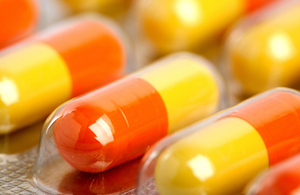 The new report 'Turning the tide on a global health crisis: initial steps' from the Review on Antimicrobial Resistance was commissioned by the Prime Minister in 2014.
Tackling antimicrobial resistance is a key priority area for PHE and there is already a comprehensive 5-year national strategy in place to address it. Two areas highlighted for specific action in the Review are already being addressed in England by PHE. These cover the use and availability of surveillance data and the development of new drugs, treatments and diagnostics.
England has one of the most comprehensive surveillance systems in place to identify and measure antibiotic resistance in bacteria across the country. This includes the collection of data on resistance from hospitals and targeted surveillance of resistance in specific types of infection such as blood poisoning (bacteraemia) and gonorrhoea.
A new system has recently been developed that enables hospital laboratories that submit data on resistance to PHE to interrogate their own local data, allowing hospitals to directly assess trends and benchmark their rates of resistance against the national picture. The system is currently being further developed to allow analysis of data on prescribing of antibiotics, which can be correlated with trends in resistance.
PHE already contributes data to pan-European surveillance of both antibiotic resistance and prescribing, coordinated by the European Centre for Disease Prevention and Control, and is now working with the WHO to support development and implementation of a Global Action Plan to tackle antibiotic resistance
The development of new antibiotics is a long and costly process. PHE's national reference laboratory for antimicrobial resistance has been collaborating with the biotech and pharmaceutical industries for many years to assess antibiotic drugs going through the development pipeline.
This service evaluates the efficacy of novel products, including combinations of antibiotics, against a range of resistant bacteria that cause hard to treat infections. These evaluations give antibiotic developers access to PHE's expertise and allow their novel agents to be tested against panels of our unrivalled collection of resistant bacterial strains.
In addition, PHE facilitated the evaluation of commercial products that identify and diagnose resistant infections more rapidly.
Professor Anthony Kessel, Director for International Public Health at PHE said:
PHE has been working hard for many years to reduce healthcare-associated infections and antimicrobial resistance by providing expert advice and guidance to healthcare professionals as well as providing surveillance and epidemiology services.

This expertise has now been harnessed to help develop the national strategy on how to tackle antibiotic resistance and deliver real change across the healthcare economy. We are working very closely with our stakeholders to meet this challenge head on.
Notes to editors
Public Health England exists to protect and improve the nation's health and wellbeing, and reduce health inequalities. It does this through world-class science, knowledge and intelligence, advocacy, partnerships and the delivery of specialist public health services. PHE is an operationally autonomous executive agency of the Department of Health. www.gov.uk/phe Twitter: @PHE_uk, Facebook: www.facebook.com/PublicHealthEngland
Public Health England press office
PHE Colindale
61 Colindale Avenue
London
NW9 5EQ
Telephone 020 8327 7901
Out of Hours 020 8200 4400
Published 5 February 2015