News story
PHE in support of World Rabies Day
World Rabies Day 2015 is the global initiative to raise awareness about the impact of human and animal rabies.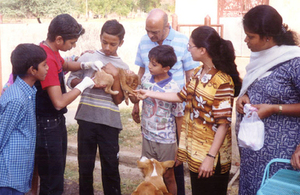 Rabies is a vaccine-preventable viral disease which occurs in more than 150 countries and territories.
The World Health Organization estimates rabies causes over 55,000 deaths per year globally, many of these in children. Hence the need to highlight global initiatives aimed at preventing and subsequently eliminating the disease.
Rabies is an acute viral infection that is transmitted to humans mainly by bites, but exposure may also occur through scratches, contamination of broken skin or mucous membranes with saliva from an infected animal or bat. Once symptoms develop rabies is almost universally fatal, however prompt post-exposure prophylaxis (PEP) with rabies vaccine and human rabies immunoglobulin (HRIG) is highly effective at preventing disease.
Dr Hilary Kirkbride, a rabies expert at PHE said;
World Rabies Day is a timely reminder that rabies is still a serious problem in some parts of the world and that it is important for travellers to remember that there is a risk of rabies through contact with infected animals, particularly dogs, in countries where the disease has not yet been eliminated. Infected animals may not show any signs of disease and therefore travellers are advised to avoid contact with animals in countries where rabies occurs.

PHE data shows that over half of the possible rabies exposures to UK travellers occur in Asia and in particular India, Thailand and Turkey. The most common exposure resulting in PEP involves dogs, followed by bats, cats and monkeys.

Any UK traveller, who may have been exposed to an animal in a rabies endemic country, should seek prompt medical attention. The rabies vaccine is very safe and highly effective at preventing rabies, but should be given promptly once the risk has been identified.
The UK has been free of rabies in terrestrial animals since 1922, but in 2002 it was recognised that UK bats may carry a rabies-like virus, European Bat Lyssavirus 2 (EBLV2). The UK population are not at risk if there is no direct contact with bats. However if an individual is bitten, scratched or exposed to bat saliva they should seek prompt medical advice.
If a member of the public finds an injured bat, or a bat that needs to be moved, PHE advice is to not touch the bat but to call the Bat Conservation Trust helpline on 0845 130 0228 for advice.
More information on rabies is available on the National Travel Health Network and Centre (NaTHNaC)'s Travel Health Pro website.
The WHO rabies fact sheet, available from the WHO website, was updated in September 2015.
Photo courtesy of rabiesalliance.org: vaccinating dogs in India.
Published 28 September 2015