Press release
PHE encourages people to sign up to Dry January
This New Year, take a month off drinking and see the benefits to your waistline, wallet and general health.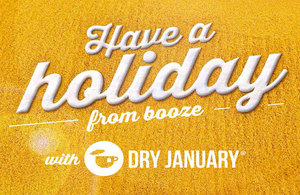 Today (19 December 2014) is dubbed 'the black Friday of booze', as the Christmas party season reaches its peak with an influx of revellers in pubs, bars and restaurants creating high demand across the emergency services. However, a spike in sign-ups to Dry January is also predicted, as people start to think about giving their bodies a break in the New Year.
This comes as new figures show that:
last year, Friday 20 December 2013 saw sales of alcohol in pubs, bars and restaurants rise by 114% compared to an average Friday
£3.7 billion was spent on alcohol last December, with total sales of alcohol rising by more than a quarter (28%) from November to December
sales of sparkling wine and liqueurs jumped by 88% and 54% respectively
Jackie Ballard, Chief Executive of Alcohol Concern, said:
In the run up to Christmas many people start drinking more than usual as they celebrate the festive season with parties and get-togethers.

This is the perfect time to sign up to a holiday from alcohol. Dry January is not about never drinking again. It's just an opportunity for people to reflect on their drinking patterns and to give their body a break from alcohol after the festive period. We know from previous years that people who do Dry January will feel better, lose weight and save money.
This data is supported by a number of people who have been keeping a record of their drinking for the past month, with many noting that their alcohol consumption in December had increased considerably from the previous month.
Charlotte Gowing, aged 38 from London, said:
I don't really see myself as a big drinker but I was quite shocked to see just how much more I drink in the run up to Christmas. Drinks on nights out with work and friends, as well as a few when I'm at home, all start to add up.

I am definitely going to give my body a bit of TLC after New Year's Eve and Dry January will be a good place to start.
Professor Kevin Fenton, Director of Health and Wellbeing at Public Health England, says:
Over 17,000 people took part in Dry January in 2014 and many reported that taking a month-long break from alcohol acted as a reset button concerning their alcohol use for months afterwards, not only helping people to drink less per drinking day but also to drink less frequently.

As with any commitment to a healthier lifestyle change, people need some time to prepare themselves in advance so that they are in the best position possible to successfully achieve their goal. People who sign up to Dry January will receive the tips, ideas and encouragement to stay motivated and make the most of their month off alcohol.
To sign up for Alcohol Concern's Dry January and register for tips and tools to make the most of the month, please visit the Dry January website.
Ends
Notes to editors
Public Health England exists to protect and improve the nation's health and wellbeing, and reduce health inequalities. It does this through world-class science, knowledge and intelligence, advocacy, partnerships and the delivery of specialist public health services. PHE is an operationally autonomous executive agency of the Department of Health. www.gov.uk/phe Twitter: @PHE_uk, Facebook: www.facebook.com/PublicHealthEngland

Alcohol Concern is the leading national charity working on alcohol issues. Their goal is to improve people's lives through reducing the harm caused by alcohol.

Dry January is a campaign by Alcohol Concern, supported by PHE in 2015, aimed at the social drinker, encouraging them to give up alcohol for a month. It is not a medical detox programme. Find out more about Dry January, follow us on Facebook www.facebook.com/DryJanuary or Twitter @dryjanuary and use the hashtag #dryjanuary

All campaign imagery can be downloaded by media from Dropbox. Login: alcohol@freuds.com and password: password.
Public Health England Press Office
Wellington House, 133 to 155 Waterloo Road
London
SE1 8UG
Published 19 December 2014