Press release
Travellers to the Caribbean warned about chikungunya
Latest PHE chikungunya annual data show a 12-fold increase from 24 cases in 2013 to 295 cases in 2014 in England, Wales and Northern Ireland.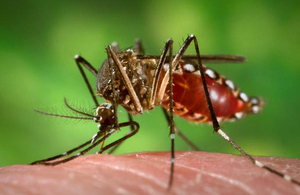 The majority of cases (88%) were acquired on trips to the Caribbean and South America, where a large outbreak, which started in December 2013 in the French Caribbean territory of St Martin, has now affected most of the countries and territories in the Caribbean and Americas. Chikungunya is a travel-associated infection and does not occur in the UK.
Dr Hilary Kirkbride, head of Travel and Migrant Health at Public Health England (PHE), said:
Chikungunya is an unpleasant viral illness that can cause fever and joint pains, which in some patients may persist for a prolonged period. Prevention relies on avoiding mosquito bites, particularly around dusk and dawn when day biting mosquitoes are most active, as there is no specific preventive medicine or vaccination against chikungunya.

Chikungunya is spread by mosquitos and is more usually found in parts of Asia and Africa but in recent years we have seen new areas of the world becoming affected, including the Caribbean, parts of America and some islands in the Pacific.
Dr Dipti Patel, joint director at National Travel Health Network and Centre (NaTHNaC), said:
We strongly recommend travellers seek pre-travel advice from their GP, a specialist travel clinic or pharmacy at least 6 to 8 weeks before they travel. To minimise the risk of mosquito bites it is advisable to wear appropriate clothing to cover up, such as long sleeve tops and trousers, and to use insect repellents. If a traveller develops symptoms such as fever, rash or joint pain within 2 weeks of returning from a foreign trip, they should seek medical advice from their GP.
Chikungunya fever is a viral illness with similar symptoms to dengue fever, although joint pains may be a more prominent feature. Most patients make a full recovery, but in some cases, joint pain and arthritis may persist for several months or even years.
Background
The annual report for chikungunya is available from the PHE website
For more information about chikungunya refer to the PHE's chikungunya guidance page or the NaTHNaC website
Travel health information is available for each country from NaTHNaC
NaTHNaC is commissioned by Public Health England and hosted by University College London Hospitals NHS Foundation Trust. It works in partnership with the London School of Hygiene and Tropical Medicine, the Liverpool School of Tropical Medicine, the Hospital for Tropical Diseases, the Department of Health and Public Health England to achieve its objective of improving standards in travel medicine and advice
Public Health England exists to protect and improve the nation's health and wellbeing, and reduce health inequalities. It does this through world-class science, knowledge and intelligence, advocacy, partnerships and the delivery of specialist public health services. PHE is an operationally autonomous executive agency of the Department of Health. Website: www.gov.uk/phe. Twitter: @PHE_uk, Facebook: www.facebook.com/PublicHealthEngland
PHE Press Office, infections
61 Colindale Avenue
London
NW9 5EQ
Published 20 March 2015