News story
PHE advice on staying mosquito-bite free this summer
Simple steps to keep pesky visitors at bay.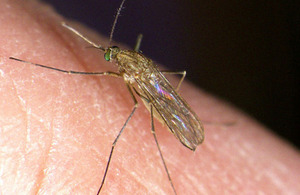 Mosquito bites can be a nuisance especially now warmer weather has arrived, but there are easy steps you can take around your own home to help avoid insect bites.
The most common mosquito in Britain is 'Culex pipiens', but they feed on the blood of birds, not humans. Other types of mosquitos in Britain do bite humans but unlike the tropics, mosquitoes in this country are not currently known to transmit any infections.
Jolyon Medlock, Scientific Programme Leader with PHE's Medical Entomology team, said:
During very hot and dry periods, many temporary water bodies have dried out, which means mosquito numbers will not be as high as last year when we had floods. Some species will take advantage of the warm weather and water-filled habitats, like water butts or paddling pools to breed, particularly those without covers that collect leaves.

At this time of year mosquitoes will enter peoples' houses. Because it is so hot, open windows at night mean they will come in more readily, although it is important to remember not all species do bite people – some only bite animals.
Jolyon Medlock added:
People can take simple steps to make sure to reduce any biting nuisance, in their own gardens, such as not leaving stagnant water lying around as these are good habitats for mosquitoes. We would also encourage the public to send any samples of mosquitoes they have found to PHE, as part of the recording scheme.
PHE's Mosquito Recording Scheme aims to better understand the distribution and ecology of mosquitoes in Britain.
The scheme is co-ordinated by the Medical Entomology and Zoonoses Ecology Group (MEZE) at PHE Porton in Wiltshire.
Top tips for avoiding mosquito bites this summer:
Cover water butts
Remove leaves and change the water regularly in bird baths and paddling pools
Try to stay indoors when mosquitoes become most active, around dusk and dawn, or use insect repellent if you do need to be outside.
Send in any mosquitoes you come across to our recording scheme, as it will help us in our research
Photo courtesy NCBI, via Wikipedia under creative commons license
Published 19 July 2013