Petraeus visits Royal Marines in Helmand
General Petraeus flew to the Estonian-run Patrol Base (PB) Wahid in Nad 'Ali (North) [NDA(N)], where Royal Marines from 42 Commando RM live …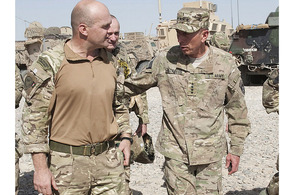 General Petraeus flew to the Estonian-run Patrol Base (PB) Wahid in Nad 'Ali (North) [NDA(N)], where Royal Marines from 42 Commando RM live and work alongside the Estonian soldiers. Both forces have been involved in Operation OMID HAFT - the biggest operation of the HERRICK 14 deployment so far. See Related News for more on this.
In OMID HAFT, 42 Commando's J and L Companies played a pivotal role in the operation to clear insurgents from the Loy Mandeh area of central Helmand during which two Royal Marines, Lieutenant Ollie Augustin and Marine Sam Alexander MC, lost their lives.
General Petraeus, accompanied by the Commander of Regional Command (South West), Major General John Toolan, the Commander of Task Force Helmand, Brigadier Ed Davis, and head of the Helmand Provincial Reconstruction Team, Michael O'Neill, spent time with the Commanding Officer of 42 Commando, Lieutenant Colonel Ewen Murchison RM, who briefed the visitors on the operation.
Lt Col Murchison said:
The visit by General Petraeus and General Toolan was extremely well-received at PB Wahid, where they were afforded the opportunity to meet elements of the NDA(N) Battle Group, namely the Royal Marines of 42 Commando and the Estonian soldiers of 12 Estonian Company - all of whom were intimately involved in the recent operation to isolate and secure Loy Mandeh Kalay from the insurgents as part of Operation OMID HAFT.
The visitors spoke to members of 42 Commando who were involved in OMID HAFT, both on the ground in the Loy Mandeh area and in support of the operation back in the headquarters at PB Shahzad.
General Petraeus also met with the Estonian 12 Company Commander, Major Martin Kukk, and the Estonian National Contingent Commander, Lt Col Anto Kergand, to thank them for their support to the ISAF mission.
Speaking about the visit, Major Kukk said:
The visit of General Petraeus was really motivating for Estonian soldiers, who make a great contribution in Afghanistan's most complicated area on a daily basis.
Published 5 June 2011